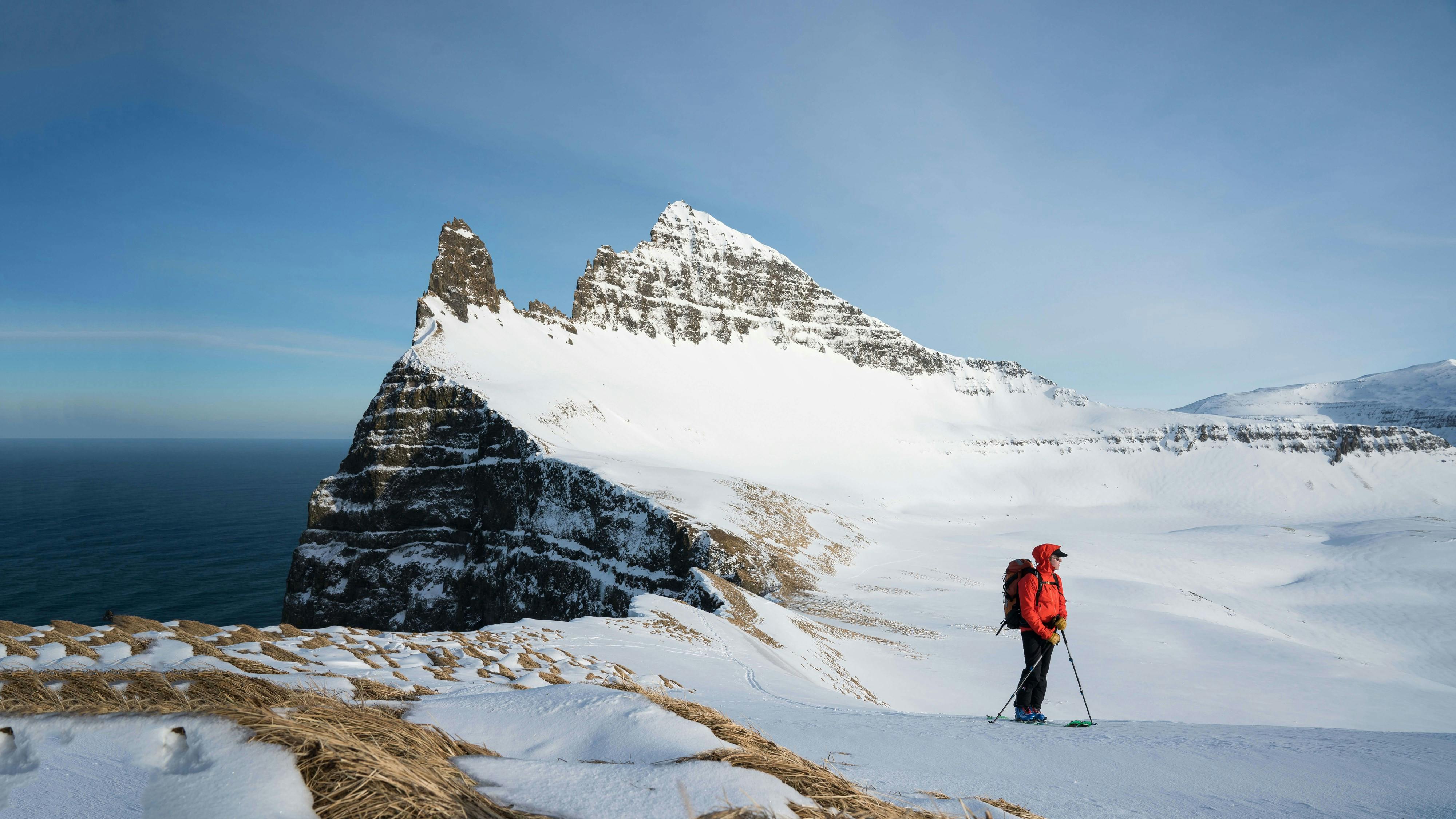 Ragúel Hagalínsson
Hornstrandir 66.45°N
Words
Haukur Sigurðsson & Ragúel Hagalínsson
Photography
Haukur Sigurðsson
Location
66°22'59.99" N -22°29'59.99" W
Hornstrendingar, the people of Hornstrandir, were self-sufficient; there was no road access and the harsh winters were often so brutal that boats couldn't come for weeks.
Hornstrandir. Iceland's most remote corner. It was populated for centuries by hardy people who fished in small boats, picked bird eggs from the cliffs and cared for modest herds of sheep and cattle. Hornstrendingar, the people of Hornstrandir, were mostly self-sufficient; there was no road access and the harsh winters were often so brutal that boats couldn't come for weeks.

Anything needed from the outside world required time and labor — there is a story about a man that hiked a full-size stove, on his back, for 30 kilometers over a mountain pass in the wintertime as a birthday present for his mother. They didn't rely much on trade from the outside world.
After 1930 things began to change. The people of Hornstrandir learned that in other places in Iceland there were jobs to be had and different opportunities. Year by year, the community started moving away, and in 1959 the last family left. Some of these families never returned — they left the life they knew behind and left their houses to ruin and eventual collapse. Others have returned to their homes every summer, allowing the next generations to experience life at the edge of the world.
"I came here first in 1994, the year I was born, and returned nearly every summer since then" says Ragúel Hagalínsson, guide, avid outdoorsman and ranger in Hornstrandir during the summer months. His forefathers lived here for generations. His grandmother was born and raised in Hornvík bay, but moved with her parents and eight siblings to Ísafjörður as a young woman.
Ragúel's family home, Stígshús house, has remained in his extended family since then, and is frequently used, allowing new generations of Hornstrendingar to learn to enjoy the solitude and dramatic nature of the area from an early age. "When I was a teenager I didn't think it was particularly cool to come here, but in my late teens I realised how awesome this is. I'm grateful for being in this family, being linked to this fascinating story and having access to this house."
Due to the inaccessibility in the winter months, not many people have come to Hornvík for skiing. There are only three houses in the bay, Stígshús being one of them. "I'd love to stock up on canned food and come stay here for extended periods over winter. One day I hope to do that."
Food is flown in and dropped from a plane by Stígshús; the landing is eight kilometers away on the sand during low tide. Upon arrival, wooden logs from the beach provide fire for the woodstove. In a country almost completely deprived of trees, shortage of wood is never an issue in Hornstrandir, thanks to the Siberian drift wood that travels thousands of nautical miles with the ocean currents. Previously, owning land where there was a lot of drift wood was like having a gold mine in your backyard—the wood was used to build houses and boats, as well as keeping people warm during long dark winters.

Ragúel is sometimes the only person within kilometers, skiing by day around the dramatic Hornbjarg cliffs and spending the long nights illuminated by the northern lights' glow. "I love being here away from everything. Away from cars and away from the daily routine and responsibilities. When I'm here I only need to think about what to have for dinner. It's a simple life. That's fascinating."
His few companions include the watchful eyes of the Arctic Foxes, Iceland's only native land mammal. Nowhere in the world is the arctic fox density as high as in Hornvík. Along the cliffs, the kittiwakes and guillemots make nests in the rock face, waiting to lay eggs. Despite the long and harsh winters, the wildlife around Hornvík is as active as ever.
Several polar bear encounters have been reported in Hornstrandir, the last one in 2011. Polar bears are not native to Iceland, but occasionally they drift over the Greenland strait—living up to their Latin name, Ursus Maritimus, the bear of the sea. On the 19th of June 1963, three men from Ragúel's family arrived to Hornvík to hunt some birds and pick eggs from the cliffs, when they saw something big and white on the beach. Their encounter is documented on the walls of Stígshús house.
For someone like Ragúel who comes frequently to Hornstrandir for longer periods of time, it's important to stay dry and warm. "Just imagine how it was in the old days, the Hornstrendingar wore shoes made of sheepskin, in this place, where it's often foggy and rainy for days or weeks at a time. The introduction of rubber boots after 1900 was a huge revolution, but the modern breathable shell was no less of a feat. The right gear enables me to not only experience this place, but enjoy it."




What to wear
Raguel's favourites