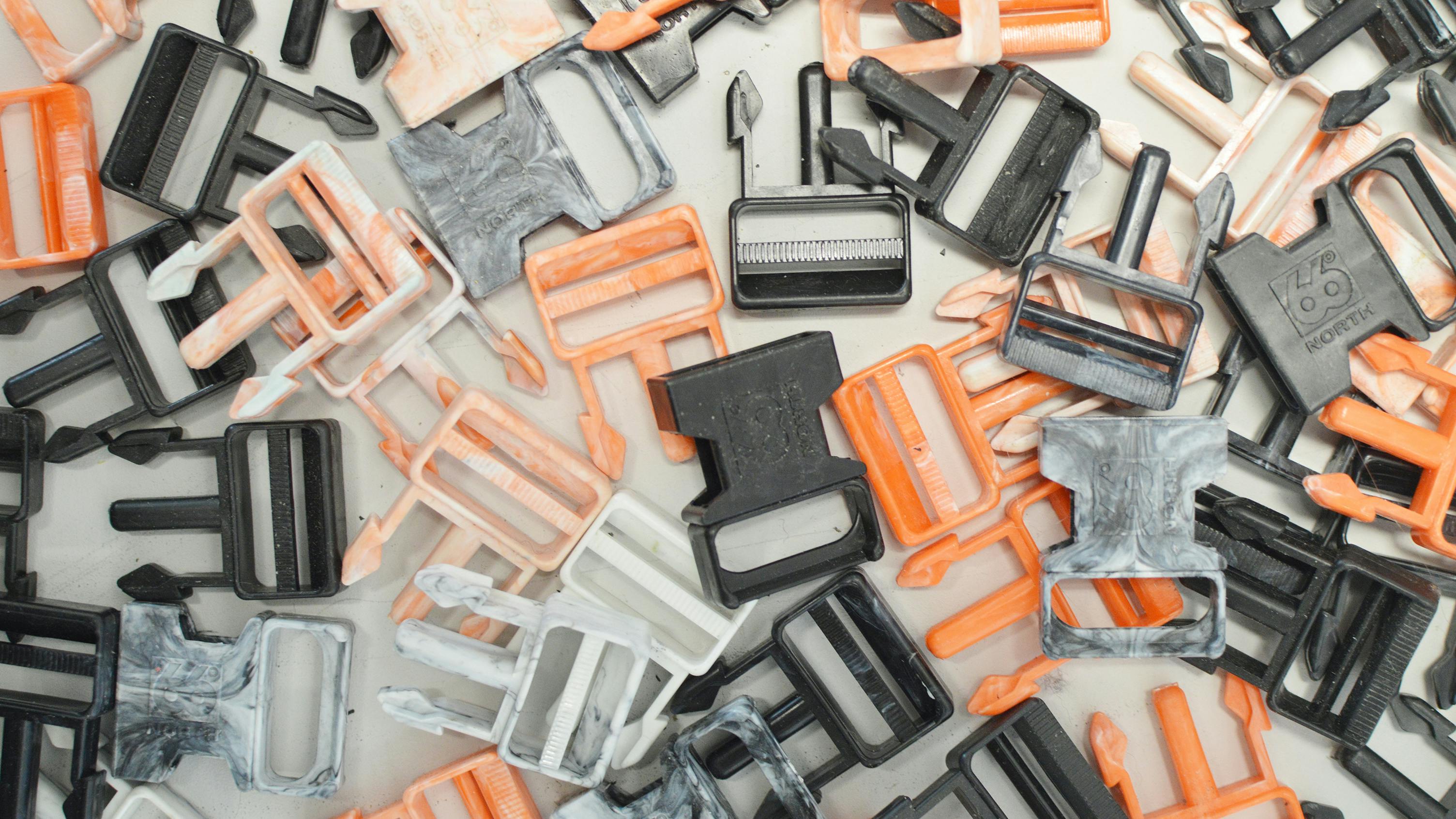 Plastplan X 66°North
Photos
Plastplan & Logi Pedro
Text
Jóhann Páll Ástvaldsson
Each snap buckle is produced from plastic that has been recycled and collected by 66°North, making it a part of a complete cycle where sustainability is paramount.

Recycled snap buckle
The design studio and plastic recycling company Plastplan, has continuous cooperation with progressive companies, including 66°North, and helps to take extra green steps in their operations.
Recently Plastplan designed and developed a 66°North snap buckle along with musician and product designer Logi Pedro. Each snap buckle is produced from plastic that has been recycled and collected from 66°North operations, making it a part of a complete cycle where sustainability is paramount.
The buckle is used on the classic 66°North Bum Bag which is made from leftover fabric. The bum bag is perfect for quick accessibility on all kinds of adventures. Made from durable and waterproof fabric, the bum bag is suitable for whatever the weather throws your way.
---
Logi Pedro
Musician and a product designer.
Portuguese born and Reykjavík bred, creativity runs through Logi Pedro's veins. A swiss army knife of a creative – musician, product designer, head of music for 101 Productions, and producer of TV shows. At this point, it might be easier to list what he isn't. His creative well is far from having dried out, however. His newest work is as a designer on a collaboration between plastic recycling design firm Plastplan and 66°North. The two companies have joined forces for reusable solutions in the fashion industry in the last couple of years.
66°North sat down with Logi Pedro to discuss his unique creative process and the product itself – a buckle for a belt pouch that is minimalistic yet stands at the intersection of the two companies.
How did the collaboration come to be?
"I entered the project as a designer on the Plastplan side. They recycle plastic from Icelandic companies, bringing it back to life by manufacturing new designs from discarded plastic. They contacted me for this particular collaboration with 66°North. I took a little dip into the project with them and it was a fun journey. We drew the buckles and it was an enjoyable process as it's completely new to us creating this specific type of product from plastic. It's all very experimental. And manufactured in Iceland by Plastplan."
Where did the inspiration come from?
"Plastplan has a certain design language when it comes to their products. And on the other hand, you've got 66°North which also has a very clear and defined design language. It all boiled down to taking these two companies and making the collaboration work. We did a lot of different sketches and versions of the buckle. We made sketches that were quite weird and very technically complex but in the end, we went for a version with simpler mechanics behind them. It's a quite simple form of a buckle but we allowed ourselves to communicate a specific design language.

It's a privilege to work with companies that are innovators

What defines you creatively?
"I'm not sure. But I think there's a technical approach to a lot of the stuff I do. When you manage to combine a creative process with something technical, you often get new perspectives."
"Like with Plastplan, they've got their own production line. Every instrument and all of its production equipment is designed in-house. It is fun working with them, they're technical and quirky. There are not many companies that make these types of products from scratch. They've retrieved the plastic from companies, and process it with the equipment they've made themselves – all to create products that are actually used. And that makes for a unique product."
What is it like to come to the end of a creative process? When you hold on to something that you've created from scratch?
"It's very rewarding to have a physical final product in your hands. It's a long process to make a product. There's a lot of research. A lot of inspecting, brainstorming and asking questions. It's a time-consuming process full of trials and errors. It's been a year now since we began working on this project. So it's an good feeling when you receive the injection mould, when you've got the prototype in your hands and ultimately the final product."
Any final thoughts?
"It's a privilege to work with companies that are innovators. Plastplan is one of the more exciting design companies in Iceland, and they're on a mission. Recycling plastics, and creating a closed loop for plastics. They actually did the damn thing.
Then you've got 66°North, a company with such a rich history. And their products are of the highest quality. It's an honour to work with these companies – an incredibly enjoyable process."