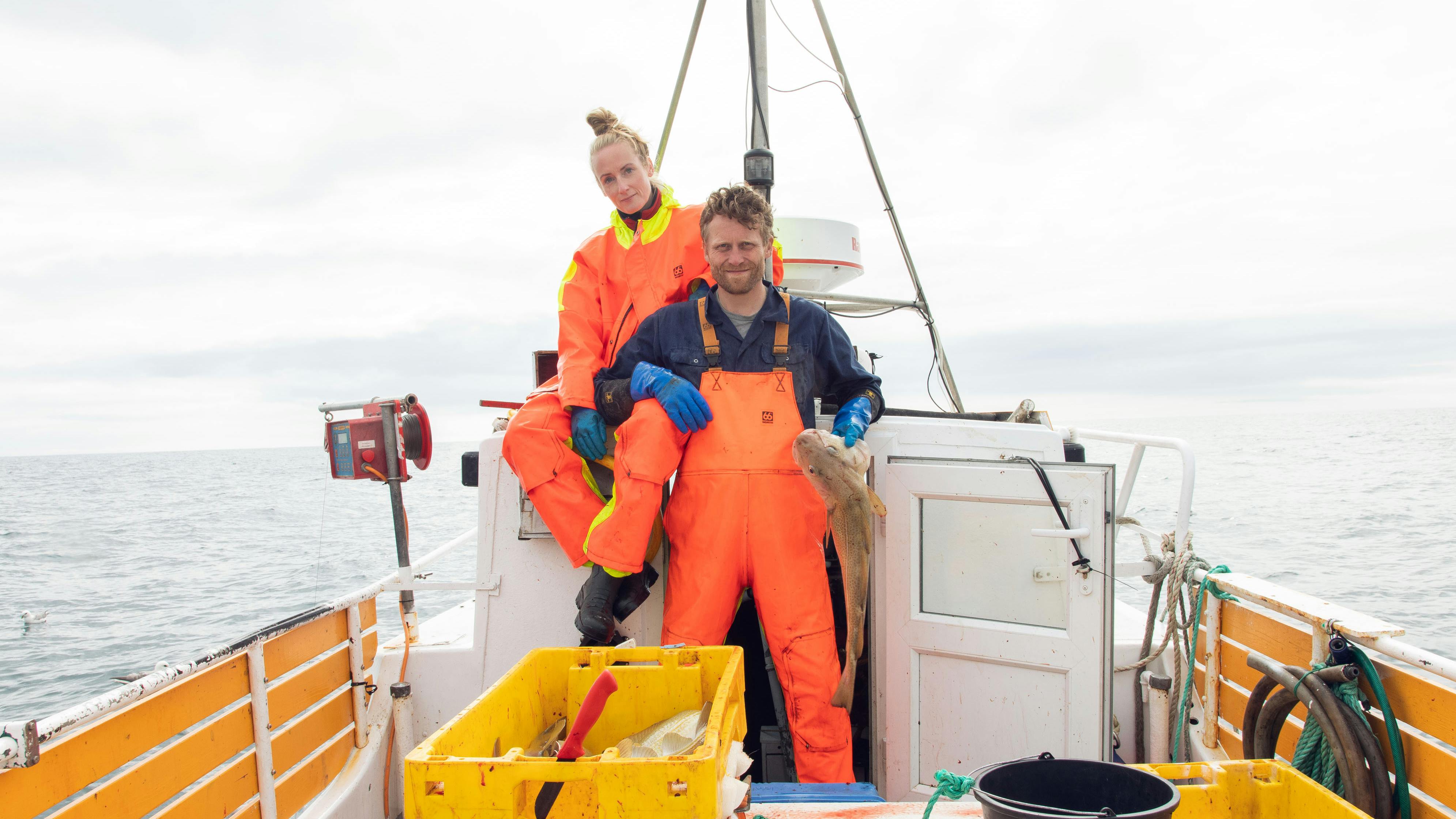 Rut Sigurðardóttir and Kristján Torfi Einarsson
A tale of a coastal fishing season
Photographer
Rut Sigurðardóttir
Text
Kristján Torfi Einarsson
Rut Sigurðardóttir and Kristján Torfi Einarsson are a couple with many talents. They bought a boat and fish together during the coastal season.
The second half of August is approaching, and the coastal fishing season has just ended. A good summer season is behind us, but summer is not over, and the family takes advantage of the warm weather to catch fish for the freezer at home before winter.  Everyone enjoys being out at sea, and there is great excitement, shouting out when a fish bites the hook. When it comes to processing the fish, gilling, gutting, and filleting, the interest varies. Some say "yuck" and disappear from the deck in an instant. Some put up with it. But the youngest ones are thrilled and covered in blood with fish slime in their hair.  


The smile was not as wide at the beginning of summer, and people were not as joyful at the start of the season. When setting sail from Hafnarfjörður north to Snæfellsnes last May to start work, it turned out that the engine's water pump was broken and the boat was stuck.
A sore disappointment, especially after all the work and money that had gone into getting everything ready for the winter. New electricity and a new fuse box and considerable plastic repairs had been carried out, and everything had been painted from top to bottom. There was no relief to hear that the wait for a new pump would be at least two weeks. When news arrived of enormous catch, fabulous weather, and record-high fish prices, you could say that the atmosphere for us, the coastal fishing couple on the quay, was electric.

We bought the boat last summer and named it Skuld.
We bought the boat last summer and named it Skuld. It is a so-called Víking 700 boat, almost 8 meters, clinker-built, classic Icelandic powerboat from the first generation of Icelandic plastic boats, almost 30 years old. I, Kristján Torfi, have been at sea from a young age and hold the position of captain on board, while Rut takes care of me and the boat and makes sure that all permits are in order, invoices are paid and reports are submitted on time, as well as serving as a deckhand.


We got the boat cheap and for good reason. Almost everything needed repairs. By the time we bought it, it had sat unmoved onshore for several years, and there are few things worse for boats than disuse. We managed to keep it running it for seventeen days last summer, with great effort, when operating from Flateyri in the Westfjords. This winter, therefore, a great deal of time and money was spent on restoring Skuld. 
Fisherman's picks
Inspired by our heritage
Third time's a charm, and poor starts bring good fortune.
The pump arrived eventually, and we sailed out for a second time. We set course for Arnarstapi, which crouches beneath a glacier 50 nautical miles away. Skuld is a slow-running boat with a small engine, and normally, the sailing should have taken 8 hours. Just over half a day later, we were towed without engine power to the port at Arnarstapi. Third time's a charm, and poor starts bring good fortune. On her third attempt, Skuld sailed unsupported to shore at Rif. After three electrified weeks, a full catch was unloaded, or 774 kilos of fine cod. Finally. This set the tone, because after this difficult start, Skuld ran like a charm – she always sailed out and always returned us home, more often than not with a full load in the hold.  




The coastal fishing season begins in May and ends in August when the 11 thousand tonnes of fish allowed during the season have been caught. Fishing is allowed for 12 days a month but only from Monday to Thursday. Each fishing tour can last a maximum of 14 hours, and each boat can bring a maximum of 774 kg ashore in each trip. The total catch of the summer was 27 tonnes, which is considered quite good, but by comparison, the average catch of boats in our area was 21 tonnes this summer.  One of the highlights of the summer was getting to know Snæfellsnes, especially the villages on the outside of the peninsula.
This was an unexpected delight because initially, we were only going to stop there for a short while.  The country is divided into four areas in the coastal fishing system, and we sail in area A, which extends from Snæfellsnes to Hornbjarg in the Westfjords. The cod starts to ascend to the continental shelf south of the country and near the Reykjanes Peninsula shortly after the end of the year but moves north as spring progresses. Fishing is thus optimal in Snæfellsnes in May, but during high summer, the catch is usually best of the Westfjords. Our plan was to chase the fish north, and we expected to sail mostly from Patreksfjörður or Bolungarvík.  

However, there was an unusually good catch in Breiðafjörður this summer, and there was fish on the fishing grounds all season. Fish prices were also very good, but in addition, small boats outside Snæfellsnes were repeatedly getting the highest prices in markets nationwide. There is no reason to change a successful turn, so Skuld unexpectedly ended up being operated out of Rif all summer. Rif is a great place. A genuine fishing village with a large number of fishing companies with strong quotas, and despite being among the country's smallest settlements, three powerful fish processing plants are operated there. The service on land was as expected, everything top class, and the locals were ready and willing to assist us with whatever we needed. Sailing home towards Snæfellsjökull glacier at the end of the day was an added delight for those who appreciate romance.   Moreover, Breiðafjörður is a mecca for Icelandic boating culture. If the Icelandic small boat could choose a home port, Breiðafjörður would surely be the choice. The fishing couple, my wife and I, traced both our ancestry through the database Íslendingabók to Breiðafjörður (seventh and ninth generations, it should be noted), and after the summer, we have started to throw our weight around and refer to ourselves as natives of Breiðafjörður, although there is little credit for our claim. 



Overall, a great summer is behind us, and various lessons learned. Many highlights and a lot of laughter, and as for all the hassle and aggravation, we learned our lesson. Not only do we know more about small boats, coastal fishing, and Snæfellsnes, but also about each other. Now I know, for example, never to wake up the deckhand/fishing operator with shouting and noises. Do not do that, definitely not. 
Perhaps the only downside now is that the season isn't longer and how long it will be until the fun starts again. One thing is for sure: in May next year, we will be in Snæfellsnes ready for battle and hopefully again and again and again. Best job in the world.