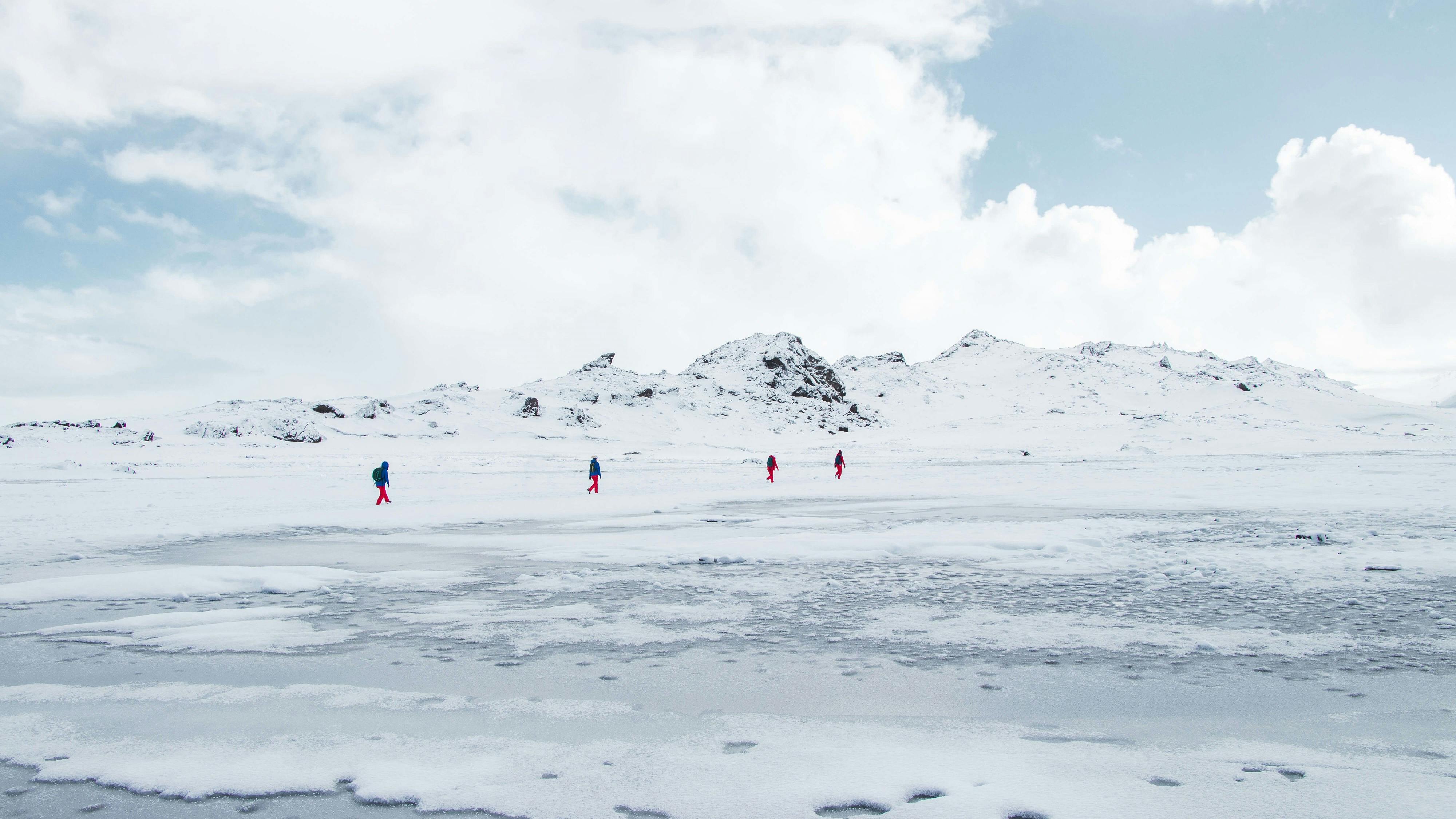 Stay safe, Stay active
Hiking in Iceland
Physical activity, whether it is inside or outdoors, has rarely been as important as it is right now. Us Icelanders are very privileged to have the great outdoors just outside their doorstep.
We met with the local hiking group "Lífskraftur", which is comprised of experienced Icelandic female hikers, and asked them about what motivates them to hike, what is good to keep in mind when starting out, and what routes they recommend.
We urge everyone to be safe and to follow the local laws in your area as all countries are approaching the COVID-19 health crisis in different ways. 
4 week hiking plan
Hiking is a great way to recharge your batteries, get into good shape and experience nature in a more in-depth way. It's a common belief in Iceland that one's vitality is derived from the nearby nature, so it's no surprise that a great number of people get hooked on hiking. The members of the "Lífskraftur" hiking group have explored most of the mountains near the Reykjavik area and now have assembled a hiking plan for those interested in doing the same.
Being appropriately dressed and prepared is integral to a successful hiking trip. That means wearing a specific set of layers, along with a good pair of hiking shoes, equipped with a headlight, and having packed lunch and water in your backpack. Also, if you're hiking during winter, make sure to bring crampons.
For those with little or no experience, we recommend exploring the smaller mountains close to the Reykjavik capital area. We also recommend bringing trekking poles when you're starting out, as they can help ease the stress on your knees when descending down the mountain.
As for those who are more experienced in winter hiking, we simply remind them to bring an ice axe and crampons when appropriate. Furthermore, we urge everyone who intends to hike during winter to make sure to check local weather and avalanche forecasts before they head out.
Week 1
Mosfell in Mosfellssveit

Altitude: 280 m. / 918 ft.
Route: 4 km. / 2.5 miles

Úlfarsfell

Altitude: 295 m. / 967 ft.
Route: 5 km. / 3.1 miles
Week 2
Helgafell in Hafnarfjörður

Altitude: 338 m / 1108 ft.
Route: 5.4 km / 3.35 miles

Notes

We recommend taking two different routes when ascending and descending, then the route should be about 5.4 km.

Háihnúkur in Akrafjall

Altitude: 555 m. / 1820 ft.
Route: 4.6 km / 2.85 miles
Week 3
Esja (towards the Steinnlandmark)

Altitude: 586 m. / 1922 ft.
Route: 6 km / 3.7 miles.

Móskarðshnúkar

Altitude: 807 m. / 2647 ft.
Route: 7 km. / 4.35 miles

Notes

Now is the time to start training with a backpack, so all hiking sessions from this point on should feature one.

Leggjabrjótur

Elevation: 500 m. / 1640 ft.
Route: 17 km. / 10.56 miles
Week 4
Helgafell in Hafnarfjörður

Altitude: 338 m / 1108 ft.
Route: 5.4 km / 3.35 miles

Vífilsfell

Altitude: 655 m. / 2148 ft.
Route: 5 km. / 3.1 miles

Skeggi in the Hengill area

Altitude: 805 m. / 2641 ft.
Route: 12 km. / 7.45 miles
---
The hiking group recommends the following trails around the captial region. Click on the links beneath the maps to download .gpx trail files that can imported into your GPS watch or device.


What to wear
Recommended for hiking in Iceland

Stay safe, Stay Active
Guides and maps for running, hiking, and wilderness isolation in Iceland