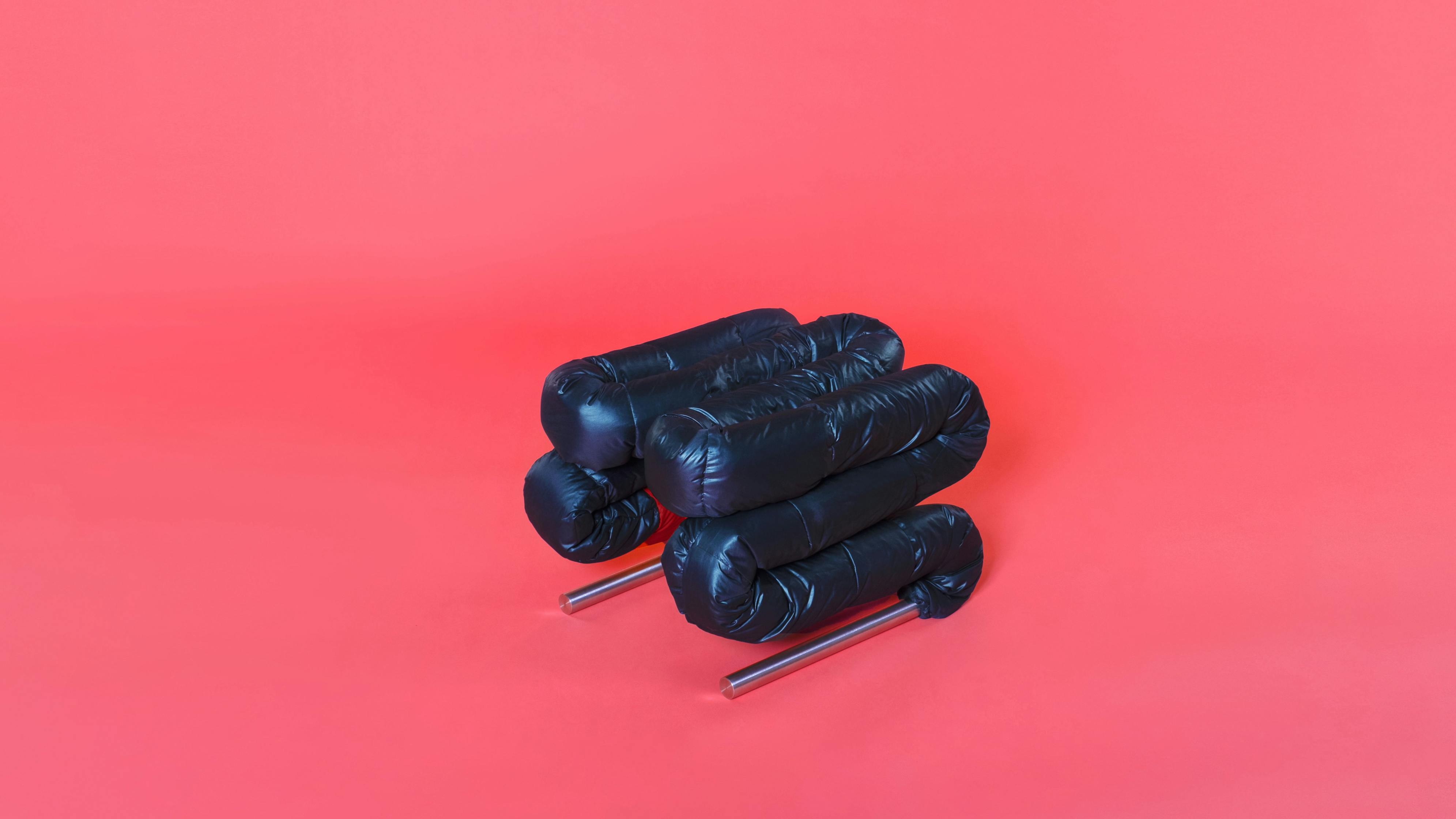 DesignMarch 2022
Sleeve x 66°North
Discarded puffer coats and jackets from 66°North get a new life and become chairs that can be re-fitted again and again. Made from a single metal rod that, is covered with sleeves of the discarded material, the chairs are the first outcome of an ongoing exploration of how upcycling can be achieved between product categories.
Text: DesignMarch
Video: Þráinn Kolbeinsson
Opening event - May 5th, 16:00-18:00
Open everyday from May 5th - 8th, 2022, from 10:00 - 19:00
66°Norður, Laugavegur 17-19
---

Damaged and non-repairable coats and parkas from 66° North are given new life as a progressive and unique product line in the form of chairs. Erm (Icelandic for "sleeve") aims to creatively transfer an object's intended purpose between categories, from a wearable clothing item to household furniture.
The sleeves are stitched together forming a long cylinder that covers a single piece of bent, steel rod that can be fitted with new sleeves again and again. Each chair has a unique look depending on the coats used to make it.
With ERM the designers Arnar Ingi and Valdis Steinars explore how the life cycle of a product can be extended by jumping from its original role. How can a puffy coat become a chair? And can it become something else after that?
The project is an examination of how product categorizing can be used as a starting point instead of a restriction when designing innovative solutions for discarded products. The project is in collaboration with 66° North and tailored by Nína Guðrún Guðlaugsdóttir.
---
Collections
DesignMarch x 66°North

Valdís Steinars x 66°North
Valdís Steinarsdóttir uses a two-dimensional mold to shape the clothing with natural liquid material.

Flétta has experimented with textile offcuts from the production of 66°North clothing, the material has been melted, sewn, and wrapped together in different ways in search of the right context for the textiles.