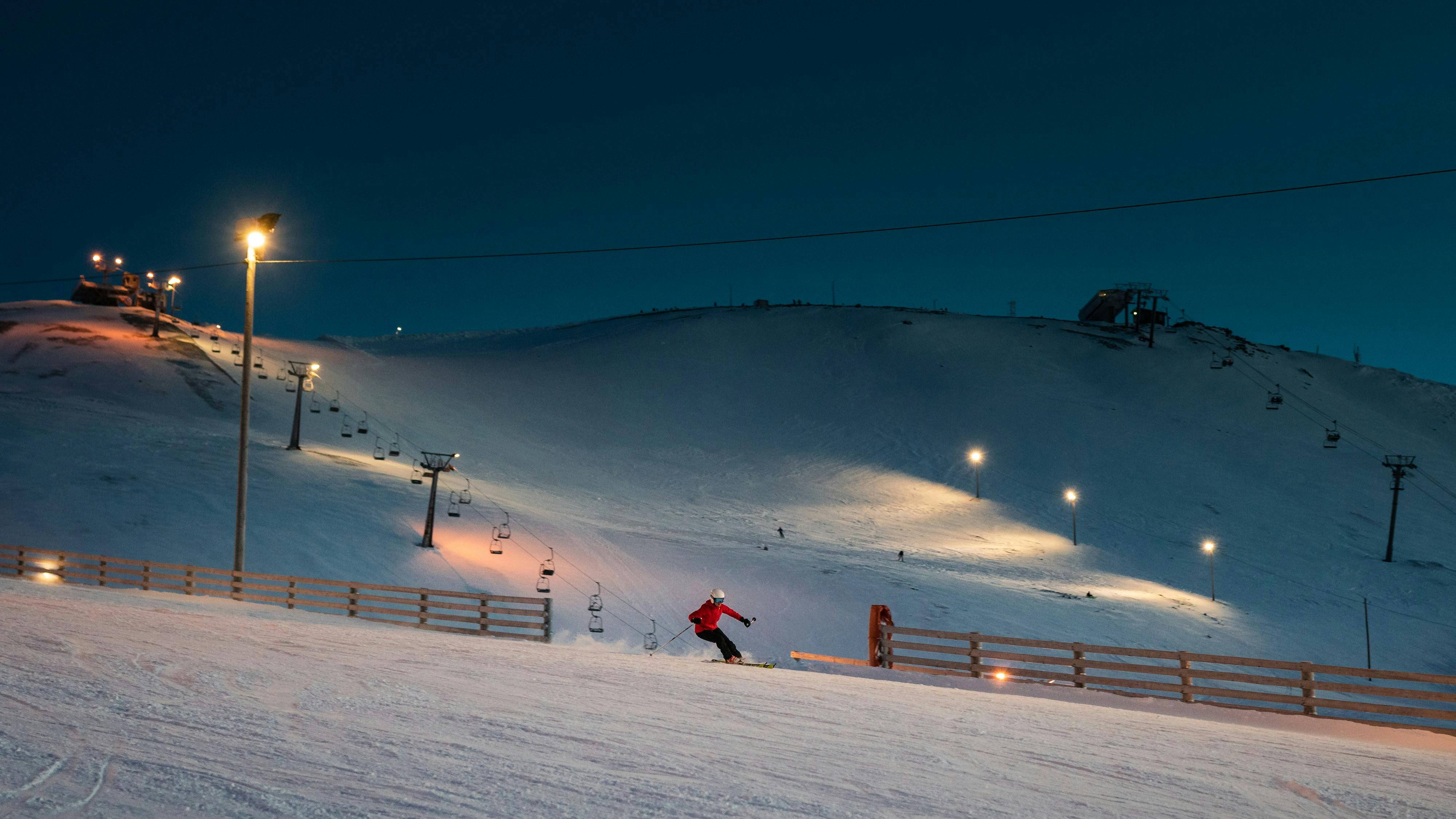 Arnaldur & Olafia
Skiing in Iceland: Chaotic wind and dark skies
Directed by
Elli Thor Magnússon
Photography
Benjamin Hardman
Location
63°48'0" N - 19°10'0" W
When the weather breaks, Icelanders rush to the slopes.

Iceland's dark winter season brings the inevitable return of chaotic wind and numbing snowstorms. In a matter of minutes, clear skies can transform into a world of ice and road closures. Yet, when the weather breaks, Icelanders rush to the slopes.
We headed to the Bláfjöll ski resort with the face of our recent winter campaign model Arnaldur Karl Einarsson and his sister Ólafía Elísabet Einarsdóttir, both Icelandic ski champions from a young age.
The siblings have been skiing the mountain since they first learned to walk. They reminisced on the days of battling relentless weather extremes just to carry on with their training, and how to thrive while skiing amidst the winter elements of the North.
Just 25 minutes outside of Reykjavik, Bláfjöll or the ´Blue Mountains´ is one of just a handful of locations with functioning ski lifts around the country. Though tiny in size compared to its European counterparts, Bláfjöll makes it's presence known by the challenging conditions it throws at skiers and lift workers. The wind up there can be so relentless that it pushes you backwards up the slope, though that does give you more time to enjoy the short ride down.

As far back as their memory serves, Arnaldur and Ólafía recall the countless training sessions under the guidance of their parents, both experienced ski instructors at Bláfjöll.
No matter the weather, their close family bond and dedication to the sport has seen them make the trip up to the mountain at every possible chance. This quickly developed into a competitive drive that led both siblings to begin competing at a young age.
"I've been ski racing as far back as I remember. I've probably spent more time up on Bláfjöll than at my own house"
Skiing in Iceland is full of quirks. With just a few hours of daylight and plaguing storms, ski days are dark and few and far between. Most skiing at Bláfjöll is done under artificial lighting to combat the lack of sun, it really is a matter of making the most fun out of the difficult conditions. Having the right clothing is essential.


Iceland is by nature very unpredictable when it comes to the weather.
Arnaldur and Ólafía have both achieved the champion position several times on the Icelandic ski circuit. Often they'd have to travel to Akureyri to get access to more snow, a five-hour drive north. With an intensive training schedule, Arnaldur reminisced on a year where they made the trip almost every week for a whole season. With the constant concern of dark icy mountain passes and blowing snow on the way, this can quickly become a stressful commute, but as most things go in Iceland, things usually always work out in the end.
"In the mountains you learn quick that there´s nothing worse than being poorly dressed. There can be bright sun one minute and a snowstorm the next. This is why it's so important to have good clothing and even some extra layers packed just in case things take a sudden turn."
See our ski layering guide for inspiration on what to wear.




What to wear
Arnaldur's and Ólafía's favourites

What to wear
With ever-present threat of the unstable weather closing down Iceland's ski resorts, Icelanders have to be ready as soon as they get the green light to head to the mountains.