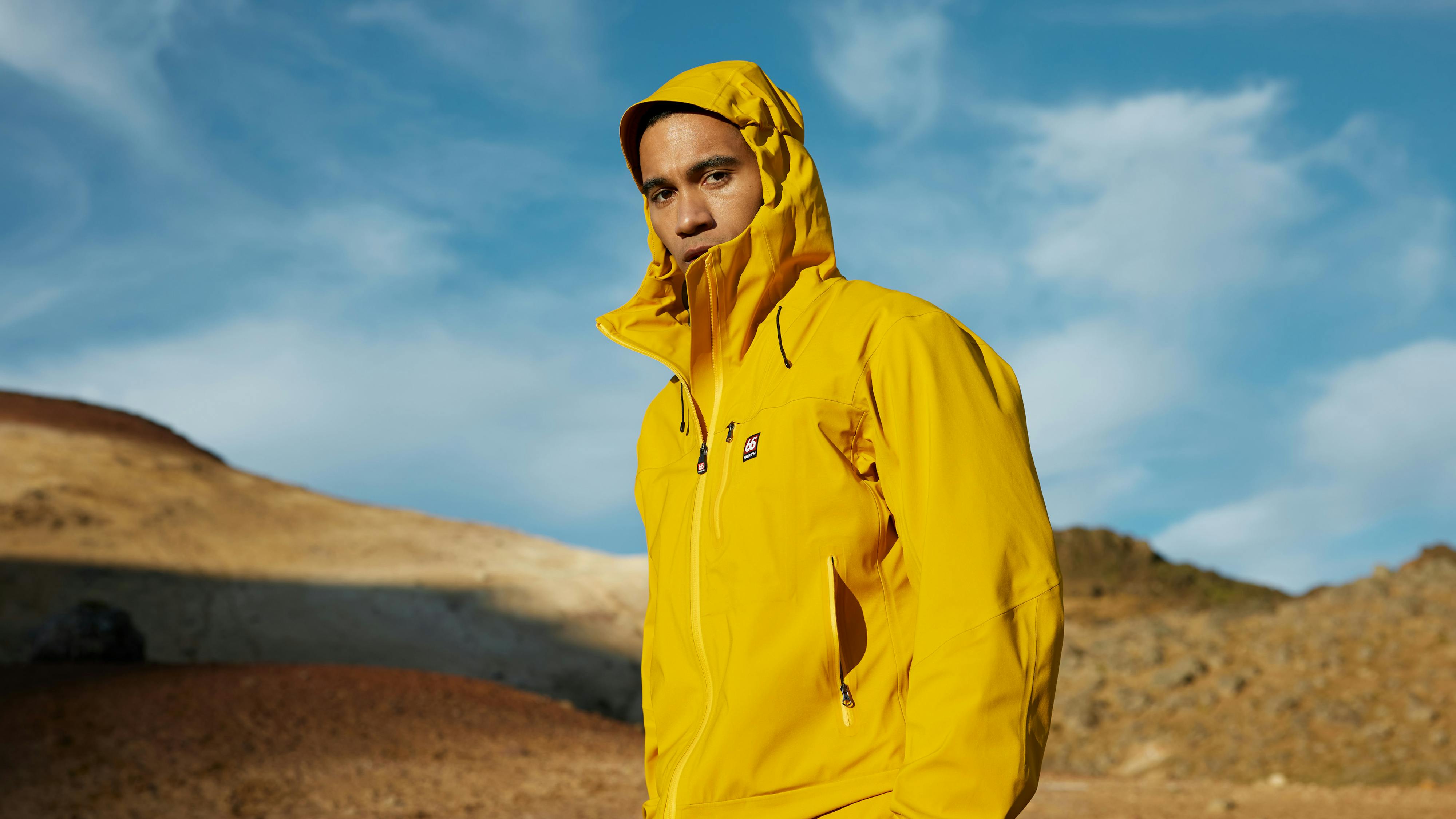 Intelligent weather resistance
Skaftafell is a shell jacket optimized for comfort and versatility.
Cut from breathable GORE-TEX Infinium, Skaftafell provides shelter from the elements in a sophisticated, heritage-inspired shell. For a mix of style, comfort, and capability, there's none better.




"
The Skaftafell jacket has saved me countless times when out hiking and riding. The flexible waterproof material has helped me stay dry and warm during long those long windy and rainy days. It also works great in the city, making it wearable in all environments.
Benjamin Hardman, photographer.

Materials & shell
Stretch-enabled GORE-TEX® INFINIUM™ laminate with a nylon/elastane face fabric.
---
Unlike traditional waterproof GORE-TEX®, INFINIUM™ is highly-water resistant. What it loses in superlative water protection, it makes up for in comfort and breathability.
INFINIUM™ provides intelligent weather resistance: enough to handle Iceland, without compromising wearability.




The best jacket is the one you're wearing. That's why we designed Skaftafell to be so easy to leave on. GORE-TEX® INFINIUM™ provides balanced protection, while a stretch-enabled, soft touch face fabric is as agile as it is smooth. Heritage colors and handsome features extend Skaftafell's range off the trail. Adjustment points on the hood, hem, and cuffs allow wearers to make their Skaftafell exactly what each situation demands. 
After all: if your jacket is this wearable, it's hard not to wear it. That's intelligent weather protection.
We take pride in making quality outdoors garments from sustainable materials, helping the very Earth they're designed to explore. For more about our Circular initiative, please visit 66north.com/circular.
Technical details
Designed and proven in Iceland since 1926
---
Breathable                       
Windproof  

GORE-TEX® INFINIUM™
Skaftafell is constructed from GORE-TEX® INFINIUM™, a comfort-focused water resistant laminate from GORE-TEX®, the legendary maker of waterproof fabrics.
In 1969, GORE-TEX® created the breathable waterproof laminate fabric– and with it, the modern outdoors industry. Since then, GORE-TEX® has worked tirelessly to bring its expertise in protection into textiles of all kinds. The INFINIUM™ product line sees GORE-TEX® trade superlative downpour protection for everyday comfort and agility. Jackets built with GORE-TEX® INFINIUM™ emphasize wearability: if you've ever "sweated out" in a traditional waterproof laminate, INFINIUM™ is your answer.
Features
Water-resistant zipper.
Two spacious slash pockets, with ample room for belongings. 
One card pocket on chest, perfect for tools and ski passes.
Visor on hood for additional comfort and protection and drawstring adjustment. 
Adjustment points on the hem, hood, and cuffs provide customized fit (or added weatherproofing, depending on the day.)
Venting through pockets.

Fit and Size
Comfortably true-to-size



Skaftafell fits true-to-size and is designed to be worn with mid-layers like Tindur Shearling. Those planning to pair Skaftafell with a puffy mid-layer might consider sizing up.
---
Product care
Care for your Skaftafell and it will last a lifetime


Gore-Tex® is a highly technical material, which in turn makes washing it a bit of a technical operation. But do not despair! It's no problem as long as you follow these technical steps. Close all zippers and snap fasteners before washing. Gore-Tex® clothing should be washed by itself in a washing machine at 40°C, with just a small about of liquid detergent. Only use liquid detergent and avoid the use of fabric softeners, stain removers, or bleach since they affect the garment's characteristics – and we don't want to reduce the technical elements of such a technical garment! Wash it twice on a low spin setting. It's best to hang it up to dry, or alternately you can put it in a dryer on low heat. More information can be found at this link to Gore-Tex®. 

NORÐUR Journal
The world of Skaftafell

People
What a time to be a volcanologist
Helga Kristín Torfadóttir is a volcanologist and a PhD candidate. She tells us about the eruption on the Reykjanes peninsula.

People
Where the ice melts
This year Ragnar surveys Drangajökull's east side for the second time. He took over from his father, Þröstur, who did it for 25 years. Þröstur took over from his uncle, Guðfinnur, who was in charge of the previous 50 years.