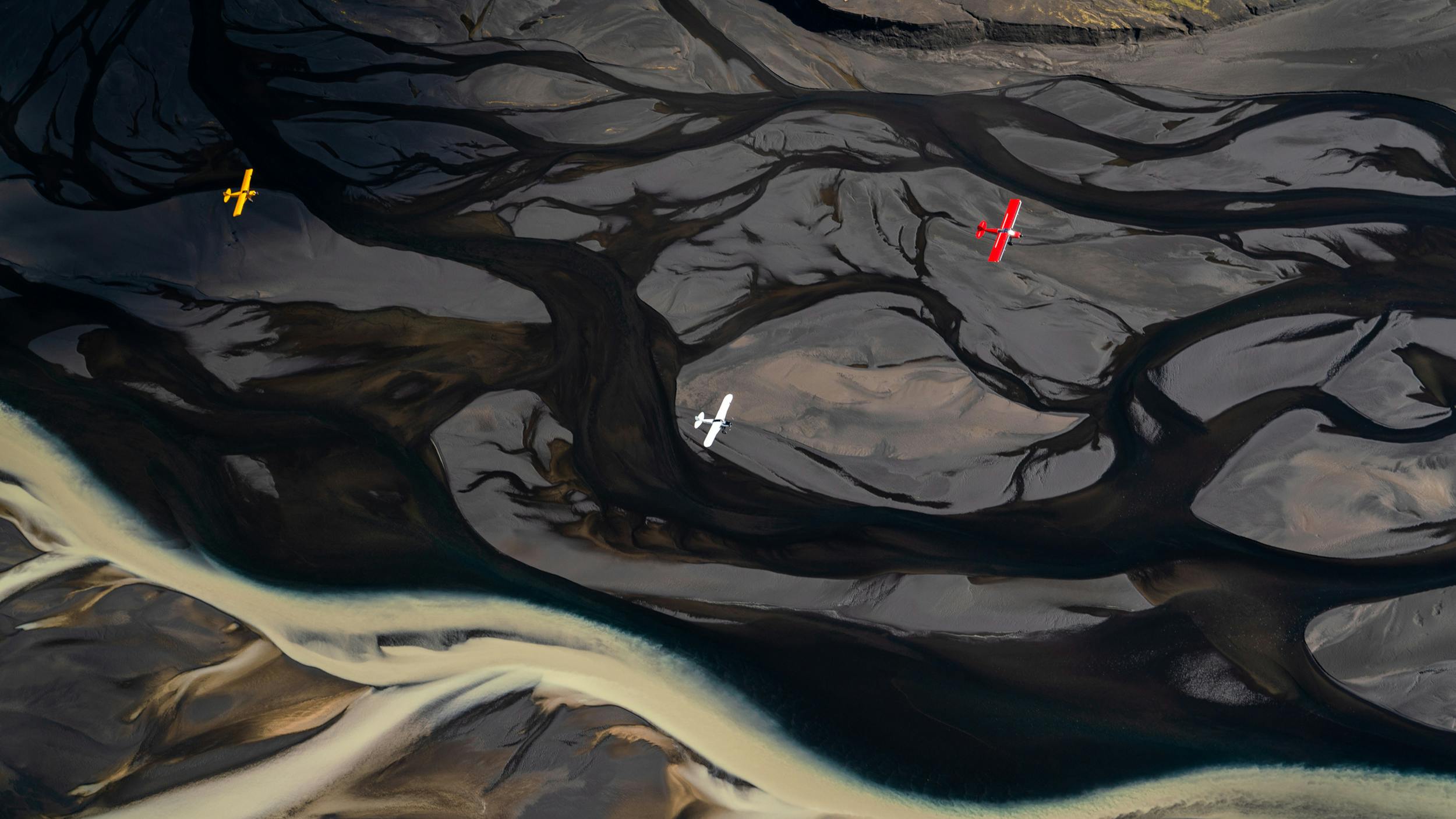 Chris Burkard
At Glacier's end
Words & Photography
Chris Burkard & Matt McDonald
Renowned photographer Chris Burkard's passion for preserving the Icelandic highlands.
Chris Burkard is a world renowned adventure photographer with a passion for Iceland. He's explored the furthest reaches of the country over the last decade, growing a strong affinity to documenting the glacial river systems that run from the highlands all the way down to the ocean.
Working with writer and fellow photographer Matt McDonald, the duo have released a new book – At Glacier's End.
'At Glacier's End takes you on a journey down Iceland's glacial rivers, from headwaters to sea. It features photographer Chris Burkard's finest aerial images from nearly a decade of flights. Iceland's rivers have become culturally iconic in large part because of Burkard's incredible passion for them. Finally, all his best images from Iceland live in one place in this perfect coffee table book. Alongside those images, Matt McDonald takes the reader on a journey (in 10,000 words of prose) down these rivers, providing a cultural and environmental perspective from their formations to present day. All of Iceland's major rivers have become threatened by heavy industry in recent decades; however, a massive conservation movement is underway to save them today, led by the Icelandic government.''

Chris shared with us the philosphy behind book:
''Iceland's nature has brought so much Joy to my life over the last decade. I felt really indebted to its people and its nature to create something that spoke to the importance of these wild places and what they have meant in my life. Iceland's glacial rivers are nature's abstract paintings. It seems obvious that rivers this wild and stunning are protected, yet the harsh reality is that many have been dammed, mainly to provide power for aluminum plants. A massive conservation movement is underway to preserve these rivers, but will it succeed? At Glacier's End gives a voice to Iceland's glacial rivers - providing both a cultural and environmental perspective - on the journey from glacier to sea.
When asked what motivated coauthor Matt McDonald to be involved in the project, he told us that he sees Iceland as one of the wonders of our world.
''Iceland's nature is something not available many (if any) other places in the world. Perhaps as Icelanders, it's hard to appreciate the unique landscape that are created when volcanoes and glaciers interact and form intricate, abstract glacial rivers. We've both been all over the world, but still remain stunned by the Icelandic landscape. We view Iceland as one of the wonders of our world.''


The book explores the current threats to Icelandic nature with an ever-expanding industry demand for hydro-electric power, and how the resulting rise of more power stations and dams threaten the future of the Icelandic wilderness and glacial river systems.
The Highland National Park project has been established by a collaborative group of Iceland's leading conversation bodies including Landvernd and Náttúruverndarsamtök, with a goal to unify and expand the national park system in Iceland to create a greater system of protection set to span across the entire highland region of the country. Their mission statement and objectives outline the vision for their project:
''The organisations and associations which stand behind this mission statement wish to achieve as comprehensive a unity as possible concerning the protection of the central highland of Iceland by establishing a national park to be owned by the Icelandic nation as a whole. We believe that a Highland National Park will be Iceland's greatest possible contribution to the protection of nature. It will improve and strengthen Iceland's image as a nation supporting the preservation of pristine land and wildlife and will be of tremendous benefit to all those who visit Iceland as well as to Icelanders themselves. The national park will be a sanctuary for those who wish to enjoy the natural environment of the central highland, and who take pleasure in outdoor activities and relish the first-hand experience of pure nature.

The central highland is one of Iceland's greatest treasures, containing volcanoes, glaciers, voluminous rivers and waterfalls, colourful hot springs and mud pools, vast lava fields and broad expanses of black sand, all contrasted with oases of vibrant but vulnerable vegetation. Collectively, these natural phenomena and magnificent landscapes form one of the largest untamed wildernesses in the whole of Europe. The power of the natural forces at work there, including the interplay of fire and ice, continuously create and mould an imposing and dramatic terrain, while the tranquility and solitude of the wilderness can enchant visitors in such a way as to be an unforgettable experience.
To find in one area such an amazing collection of natural jewels as described above is truly unique on a worldwide scale, especially as such vast, unpopulated areas, where nature alone rules, are continually being reduced in number. We Icelanders are in the enviable position of still being able to stand guard over this invaluable treasure and to protect our central highland for future generations.
The establishment of a National Park of the Highland must entail the withdrawal of any plans for further dams, hydro-electric power stations and high-voltage pylons within the area. It is also very important that a satisfactory agreement is reached regarding any further extension of roads in the park, which should be tourist-orientated, have as little effect on the environment as possible, and blend in with the natural landscape.''

The duo recount some of their observations of the threats to the Icelandic highlands from their time spent travelling around the country:
Chris:

''As Icelanders continue to see the inherent value in nature over extractive industries and the irreparable damage that dams and aluminium plants can have on its river systems, I think permanent protection is needed. In addition the alternative can be dangerous, overtourism can have similar damaging affects - which is why planning for a sustainable tourism future for Iceland is crucial. Attempting to not just make short term solutions for long term problems.
Matt:

''The biggest current threat to the Icelandic Highlands are new hydropower projects for aluminum production, as they require huge reservoirs that bury large parts of the Highland and affect river flows to the sea. When in Iceland we learned about Iceland's history creating dams for aluminum production, then the environmental movement that sprung out of the Kárahnjúkar project. It seemed now was a pivotal time – with exploding tourism – to create a piece of work that speaks for these rivers, especially since there is a strong economic argument for keeping them wild. Once we learned of the Highland National Park efforts, we felt that our photographs and words could perhaps help this park that we believe in. The tale in Iceland is a microcosm of the problem facing humans worldwide: how do we build prosperous communities while coexisting with our natural landscapes? It's such a fascinating question to both of us.''

Sharing his book with 66 North and the Icelandic community, Chris hopes that the words and imagery from a foreign traveller can help bring a new perspective on the issue of preserving the highlands to the local people.
'The advocation of creating a national park has never been more important. Uniting peoples interest and interest groups to show all Icelanders that a national park doesn't need to restrict freedoms but can overall have a net positive impact on everyone, from the tourist to the fisherman to the farmer. The goal is to protect this land from the large scale damage by protecting its landscape for the future.
People are very excited to be in support of preserving Iceland's nature and to have a deeper understanding of the long and complicated history iceland has had with industry, tourism and other issues. I think the goal when sharing the book in Iceland is to humbly share an outsiders perspective of why the country is so special. Sometimes it takes an outside voice to help people see those things.''


With the book set to reach a global audience, Chris hopes that the images and words from At Glacier's End can help to inspire people to raise their voice in the efforts to preserve Icelandic nature:
''Beyond the fact that Iceland features some of the most untouched wildnerness left in Europe, I feel like it is up to the people to make sure that we give a voice to these places that cant speak for themselves. The hope is that we protect Iceland for future generations and express the need for a national park to keep the most precious parts of the country safe from extractive industries.''
At Glacier's End is now available on the 66 North online store. Head here to see our full Glacier Friday story collection and head to halendid.is to learn more about the National Park Project.


Glacier Friday 2020
NORÐUR Journal
''I think the heritage of 66 North and the country are synonymous.. the fact that it started as a way to outfit fisherman for the most unruly storms and still stands behind that ethos is really incredible. The brand also does an amazing job of telling incredible stories about its local people.'' — Chris Burkard
---