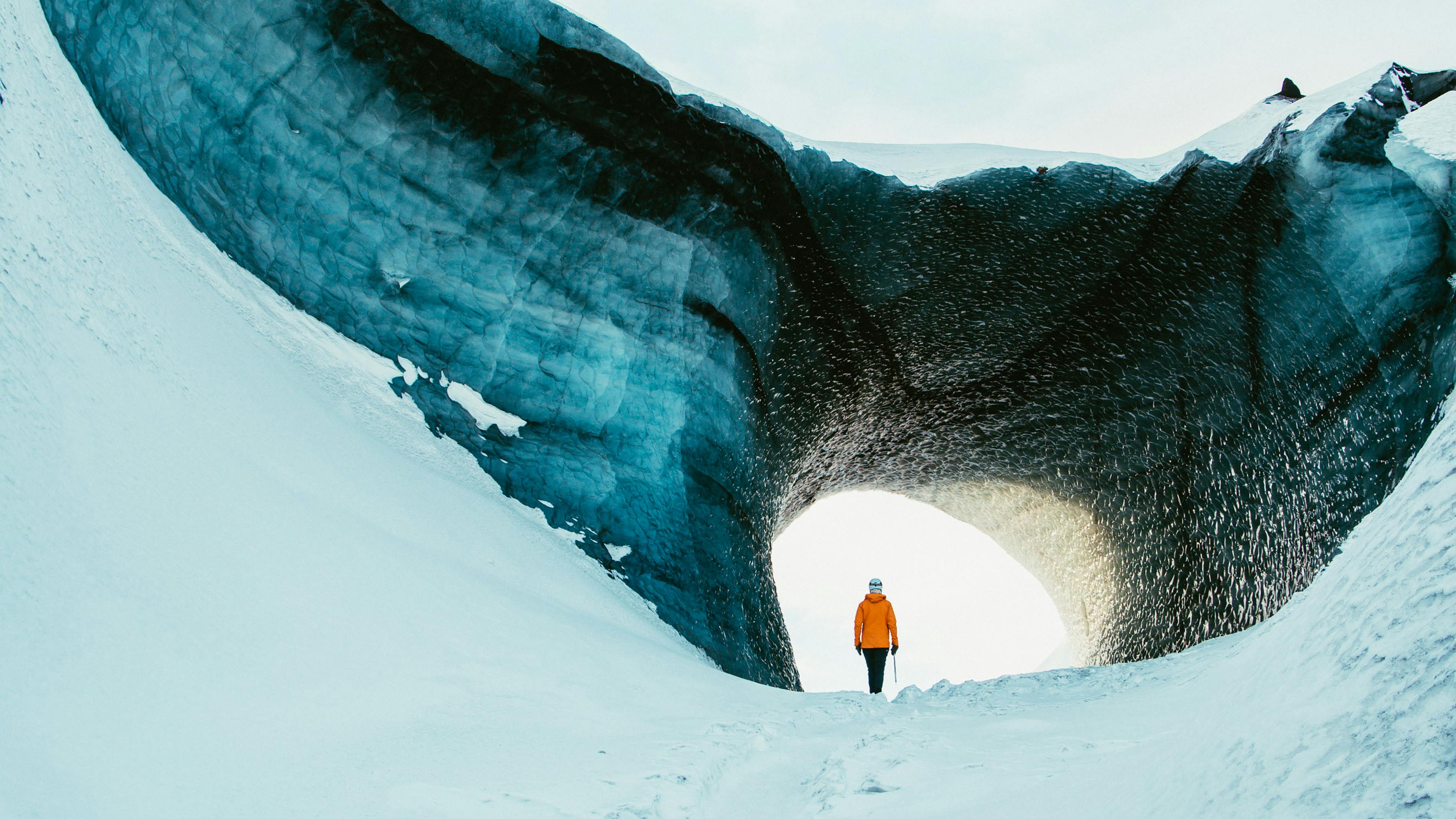 It can be tricky to pack for Iceland
As the weather is unpredictable and changes without warning. If you are thinking about making the trip over, Ása Steinars knows just what you should bring.
Hey! I'm Ása, an adventure photographer from Iceland.

I grew up in Oslo, but moved home to Iceland when I was 7 years old. I love to travel, meet new people and get to experience different culture and places. I'm just a little obsessed with photography, hiking, scuba diving, and reading guidebooks to countries I have no immediate plans to visit.
There's a long list of questions that I get asked from travellers planning a visit to Iceland. One of them I get asked quite frequently:

What should I pack for my trip to Iceland?

The name Iceland seems to scare many travellers and might give some people the wrong idea about the country. Some imagine a typical scene from a hollywood movie where they're battling blizzards in the north. But believe me the name is scarier than the actual weather. Luckily we have warming effects of the Gulf Stream, which provides a temperate climate all year round.

However the biggest characteristic of Icelandic weather is unpredictability. You can experience sun, rain and hail, all on the same day.
"If you don't like the weather right now, just wait a few minutes," is a common saying among Icelanders…

What are the Icelandic seasons like?
Iceland has four seasons, although sometimes it doesn't feel that way since the weather changes all the time. However, every season has something great to offer. This specific article will be dedicated to winter, so if you are heading over between October and March, here is your ultimate winter packing list.




Winter
The Icelandic winter is the season for northern lights, snowy mountain peaks, and ice caves. It ranges from the end of October till mid-March, these months are the darkest and coldest of the year. The average temperature ranges from -5° to +5°C, however, the wind makes it feel much colder. If you are travelling to Iceland during winter it's quite important to pack warm clothes and waterproof overlayers
Layers
This is never mentioned too often, if you are coming to Iceland dress in layers! Layering your clothing is the best way to maximize your comfort while exploring outdoors. The beauty of this simple concept is that it allows you to make quick adjustments (peeling off or adding layers) based on your activity level and sudden changes in weather conditions.
So let's have a look at the different types of layers:
---
Base-layer
This is probably one of the most important layers. 100% wool is preferable and is the best insulator. The wool breaths easily and allows you to sweat through it by breathing into the middle layer. The number one rule of layering is; don't wear cotton near the skin, you'll be soaked quickly, leaving you overcooled when you stop to rest after being active.


Mid-layer
The mid layer is the primary insulating layer and works by trapping warm air that your body generates. You can choose wool, down, fleece, or high-tech synthetics like PrimaLoft. Light wool or fleece is recommended for activity in cold weather but heavier fleece, down, or PrimaLoft jackets are ideal for activity in freezing conditions. I personally choose to wear wool and from my experience, that's the option that keeps me the warmest.
Outer-layer
This layer needs to be water and windproof or resistant, protecting you from tough conditions that often occur without any notice in Iceland. The shell needs to be able to breathe as well, allowing moisture to leave the body. You can choose from so-called soft shells that are more flexible but only water-resistant (not proof), or hard shells that are completely waterproof but not as flexible and do not breathe as properly.


Parka
If you're planning a trip to Iceland in Mid-Winter I'd also definitely recommend bringing a Parka. Parkas are generally a longer fitting coat and in most cases, due to their length, they offer more warmth. With the longer length, it covers more of your body and can trap more heat easily. So if comfort in harsh winter weather is what you're looking for, a parka is your best bet.
Waterproof pants
Pack waterproof pants to keep your legs warm and dry. I always have a lightweight pair of outdoor pants that is water resistant and another pair of snow pants for the Winter season. Avoid jeans for outdoors and remember that packing for Iceland is all about comfort and readiness.
Windproof gloves or mittens
The wind in Iceland can be bitingly cold, even if it's not particularly cold outside, the windchill can make it feel like it is well below freezing. So you will want a nice pair of warm, windproof gloves or mittens.
Good hat
Is it only me who was raised to believe that most of our heat gets lost through the head? Apparently, that's just a myth but we still lose around 10% of our body heat through our heads. This will definitely matter in cold windy conditions, so don't forget it!



Swimwear and towel
This is something many travellers forget to bring to Iceland understandably, it's not the first thing that pops into your mind when packing for a trip to the subarctic. However, Iceland is rich in geothermal water so running around in swimwear is a big part of the local culture. We have thermal swimming pools in every neighborhood in Reykjavík. You will also find them in almost every small town in the countryside, and the entrance fee is fairly reasonable (4-7 euros).
You will need swimwear if you are planning on visiting the Blue Lagoon, Laugarvatn Fontana or one of the many secret hot springs in the nature! Also a towel will come in handy so you don't cool down too quickly after coming up from a natural spring in the middle of nowhere.
Nightlife
In recent years, Reykjavík has become known for its crazy nightlife. It's definitely something you should consider checking out if you are visiting Iceland. So then it might be important to pack something fancy! Don't worry too much about it though, because there is hardly a dress code anywhere (although everyone is very aware of fashion!).
Other useful stuff
Since you've already gotten this far, I assume you are already sweaty packing your bag for your trip. Since we've gone over the most important things clothing-wise, I want to list up a few other things that might be useful to bring with you to Iceland.
---
Water bottle
The water in Iceland is incredibly clean and drinkable. A plastic bottle of water costs about 350 ISK. There's no reason to buy that, instead bring with you a nice water bottle that you like carrying around. Then you can always fill it up at every hotel, restaurant, or even a nearby river!
Camping gear
Camping is available everywhere in Iceland. You can camp in designated campgrounds for about 1,600 ISK per night and some hostels allow you to put up tents too. You'll need to have your own gear and sleeping bag. Camping in Iceland can really save money in the long term. In winter camping-van is the best option, as it's still too cold to sleep in a tent.
Bring your own sheets or sleeping bag
Like in other Scandinavian countries, hostels in Iceland charge you 1,500 ISK for bed sheets so bringing a sleeping bag will help you save some extra money. Luckily, pillows are free!
GPS
A GPS device is not a necessity for travellers but it can definitely improve the experience when navigating in Iceland. You can both bring a regular GPS or use the one in the smartphones if you buy an Icelandic prepaid sim card. Google Maps works well and is quite accurate.

NORDUR Journal
Iceland blogs

People
All sides of Iceland in one day
This summer, our ambassador, Benjamin Hardman set to traverse and document the whole trail in one straight push, aiming to experience all sides of the landscape and conditions on foot within a 24-hour window.

As an Icelander, bathing in geothermal springs is a very big part of our culture. It comes from living on a volcanic island, with cold harsh weather, but plenty of natural warm water around. Almost every little town has their own pool, filled with geothermal water and outside the cities, you'll find the countryside sprinkled with natural hot springs.
NORÐUR Journal | Overview

The Arctic is beautiful – but unforgiving. For nearly 100 years, 66˚North has made life and activity possible where otherwise there would be none. These are stories of adventure, exploration, and the extraordinary everyday.