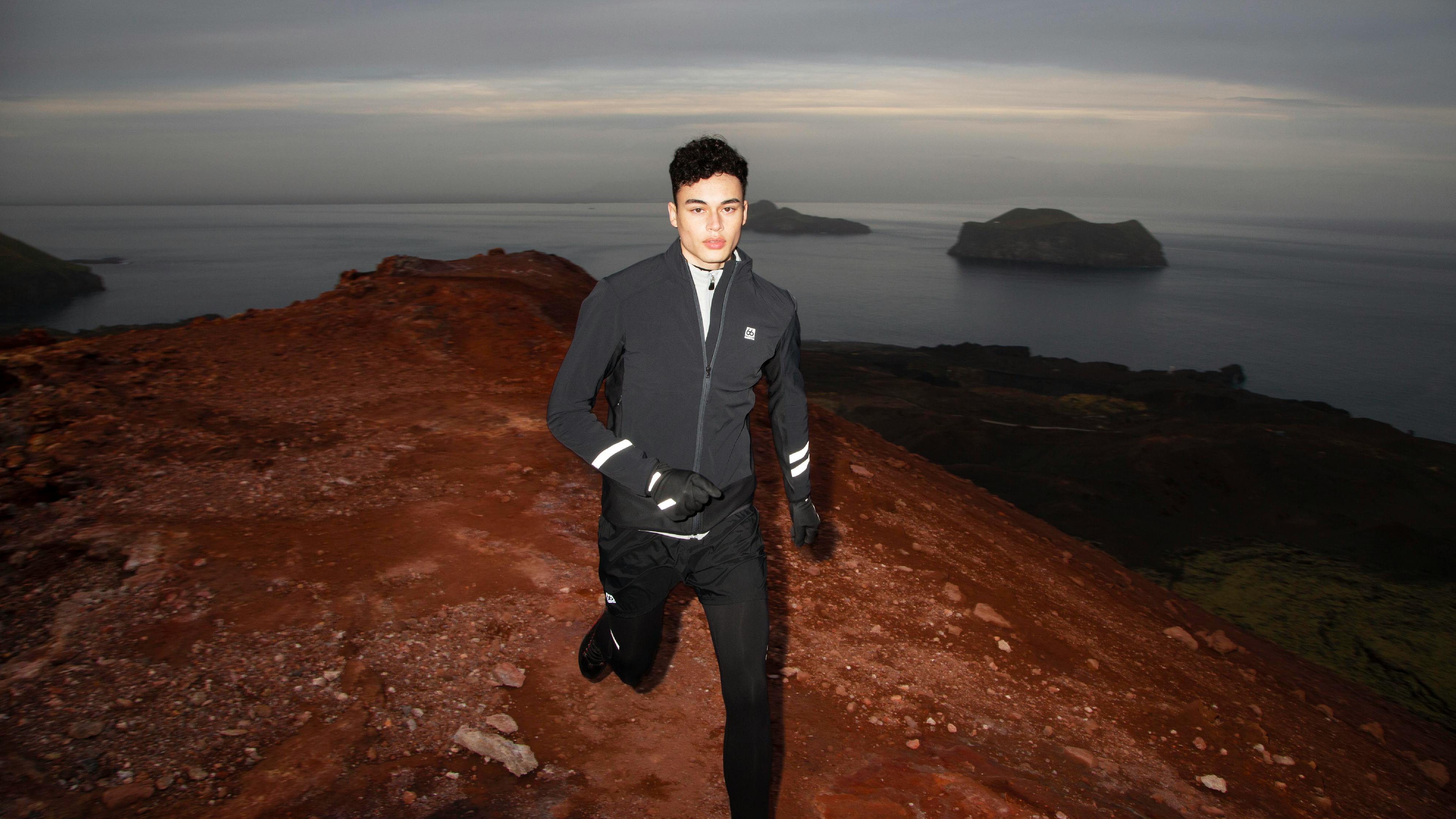 Running from the cold
Tiana Ósk Whitworth & Anthony Vilhjálmur Vilhjálmsson
Tiana Ósk Whitworth and Anthony Vilhjálmur Vilhjálmsson are among Iceland's most promising runners. They've both hit the ground running in their short careers. The young runners know a thing or two about running in the Icelandic winter, and how the cold affects them. Both took an alternative route to athletics, as they took up the sport following encouragement from their elementary PE teachers following an impromptu test and a game of tag. They haven't looked back since and today they are part of Iceland's national team in sprinting. 66°North spoke to the future of Icelandic sprinting about how they navigate running in Icelandic winter, their favorite runs and what drives them on their next sprint.
Photographer: Daníel Freyr Atlason
Text: Jóhann Páll Ástvaldsson
Twenty-three-year-old Tiana Ósk runs for the Reykjavík Athletic Club (ÍR) as well as the national team. Tiana has struggled with a hamstring issue in the last couple of years, but she's returned to the track stronger than ever. She started her running career with a bang as she unknowingly set the Icelandic sprinting record for a 12-year-old in a gym class.
Why did you take up sprinting?
"I started athletics following a sprinting test in my elementary school. My PE teacher was timing us, and I happened to be the fastest. Afterwards, we looked up the Icelandic sprinting record for 12-year-old girls. It turned out that I beat that record. So, we had a meeting and he said that I had to try out athletics."
Where do you get your drive to run these days?
"I think it's both the big goals that I want to reach and the belief that I can reach them. I've had a difficult period with injuries, and I think that if it weren't for them, I would have already achieved my goals. But then, I also simply don't know what I would be doing if were not for athletics. It's been part of my daily routine since I was 13 years old. So, it's a huge part of my identity."
What's it like running in Iceland in the wintertime? How do the cold and the weather affect you?
"We live in a country where it's a little bit difficult to run outside, truth be told. Often, I'll show up to practice all tucked in, almost like a sleeping bag to keep the body warm. It's so important to keep the body warm to prevent injuries. Proper clothing is very important when we're training outside in the wintertime."

I always run much faster when I compete abroad. Unless there's record warmth in Iceland

There must be a drastic change when you go abroad for competitions and training.
"Very much so. It's a well-known factor for Icelandic runners. We often go on training trips, such as the warm Tenerife islands. It changes everything for the body to be in warmer climates. The muscles become softer and less stiff. The cold affects the body so much, even more than we realize. You see it when comparing our times in Iceland to the ones we get abroad. I always run much faster when I compete abroad. Unless there's record warmth in Iceland"
Is there a specific 66°North garment that you use for running?
"When I train outside, I've always got a 66°North headband and gloves. I don't go out running in the wintertime without them. I've also used the Kársnes vest a lot, it's been my go-to running clothing. You've got freedom while using the vest as you're not constrained but it keeps you warm.
Do you have a favorite place to run?
"I enjoy competing in the town of Selfoss in South Iceland. We at ÍR always say that there's 'sun in Selfoss'. We've been lucky with the weather when we head there from Reykjavík, and it's always a big lift to take a road trip to compete – and to get a hot dog on the way home!"
What goes through your head while running?
"It varies. Everything happens so quickly if I'm in a sprint. All of a sudden, it's over and I don't think anything while it's happening. My coach often asks me about the run, but I've just got to say, 'I don't know, you'll have to show me a video.'
"But it's different when I'm jogging or out for a run. Then, I think more about how my body feels, whether there's any tiredness and such. There can be such a difference in how the body feels day to day. Quite often you can't feel it until you start running."
What is your most memorable run?
"I would say my run in Germany in 2019 where I set the Icelandic record for 100-meter women's sprint. It's a little bit of a sad story for me, though, as I only held the record for 30 minutes. I set it in a qualifying heat but in the finals Guðbjörg Jóna ran a split second faster than me and set a new record. But it was fun while it lasted."

In what way have the injuries affected you?
"I've had troubles with a chronic hamstring injury and the aftermath of them. It's a well-known problem for sprinters. Running as fast as you possibly can puts these muscles under so much stress. One of the things that I've had to learn is to make sure that the body is fully warmed up before I run. The odds of an injury increase a lot if the muscles are cold or stiff. So, number one, two, and three is to not do a thing until I'm warmed up and got the muscles soft."
What is your main goal right now?
"I'm preparing for the summer during which I'll go on a couple of trips with the national team. We're competing at the Nordic championships as well as the European Cup. One of my main personal goals that I'm working towards right now is conquering the injury. I've had to deal with it again and again, so I've completely switched up my training regiment, making sure that I don't push my body over the limit. So, my main goal is to make it through the season without injuries."
Any final tips for aspiring runners?
"Even though you might find it a little bit difficult while running, the feeling afterward always outweighs the bad. Whether you're sprinting or running long distances, the feeling is a bit like a drug, while discovering what your body can do."
---

Anthony Vilhjámur Vilhjálmsson has made great strides in his relatively short sprinting career, which only started four years ago. Anthony is part of the national team setup as well as Ármann, and now holds the second-fastest time in Iceland for the 200 meters distance. He's wasted no time in finding his feet and has made the Laugardalshöll athletics arena his second home.
Why did you take up sprinting?
"I started quite late, in 2019. It was never the plan to take up athletics but my PE teacher in elementary school mentioned that I was quite fast in a game of tag. He pushed me towards athletics, and since then I've kept on showing up to practices and just became quicker and quicker."
What kind of running are you most focused on?
"I mainly do sprinting, all the way from the 60-meter distance to 400 meters. But I feel most in my element in the 200-meter distance, and I ended last year with the second-best time in Iceland. That's my 'go-to'."
Where do you get your drive to run these days?
"To witness all the improvements, witnessing myself becoming quicker in competitions and competing for my nation with the national team. The social life is also a factor, as I've met some of my best friends through athletics. Meeting them every day during training gives me a huge boost."
What's it like running in Iceland in the wintertime? How do the cold and the weather affect you?
"This winter it's been quite cold, so I don't go for long runs as much. I mainly try to stay inside Laugardalshöll athletics arena to train and try to spend the least amount of time outside."
There must be a drastic change when you go abroad for competitions and training.
"The cold and the weather have an immense effect on Icelandic runners. For example, I went with the national team to a competition in Germany where we had sunshine and comfortable weather. My body felt so much better, and I ran much faster. I think there's a massive difference between competing and training sprinting in Iceland compared to other countries."
Is there a specific 66°North garment that you use for running?
"I use my Kársnes running jacket whenever when I go for longer runs. When I go for these longer distances, I put on more layers. I've also got light long pants when I warm up for sprints."

There's a massive difference between competing and training sprinting in Iceland compared to other countries

Do you have a favorite place to run?
"When I'm competing, I love running in Laugardalshöll athletics arena, where we also practice at Ármann. But when I head out for longer runs, I love going down to Nauthólsvík beach in Reykjavík. It's both a comfortable route and so beautiful. It's definitely quite cold, right next to the sea. I start in the Hlíðar neighborhood and run towards the seaside, through Nauthólsvík and Ægisíða. I highly recommend that route."
What goes through your head while running?
"I go into the 'zone'. When I go for a longer route, I'll put on some music that pumps me up that helps me get into the zone. Everything else just goes away and it's just me and the run."
What is your most memorable run?
"The 200-meter run where I became the Icelandic champion in the adult competition in Hafnarfjörður in 2022."
What is your main goal right now?
"I've got my mind set on the next Nordic championships. I need to get a qualifying standard time ahead of that."
Any final tips for aspiring runners?
"One thing runners must remember is to drink a lot of water. I've got this two-liter gigantic water bottle which reminds me to drink throughout the day. Hydration is key."
---