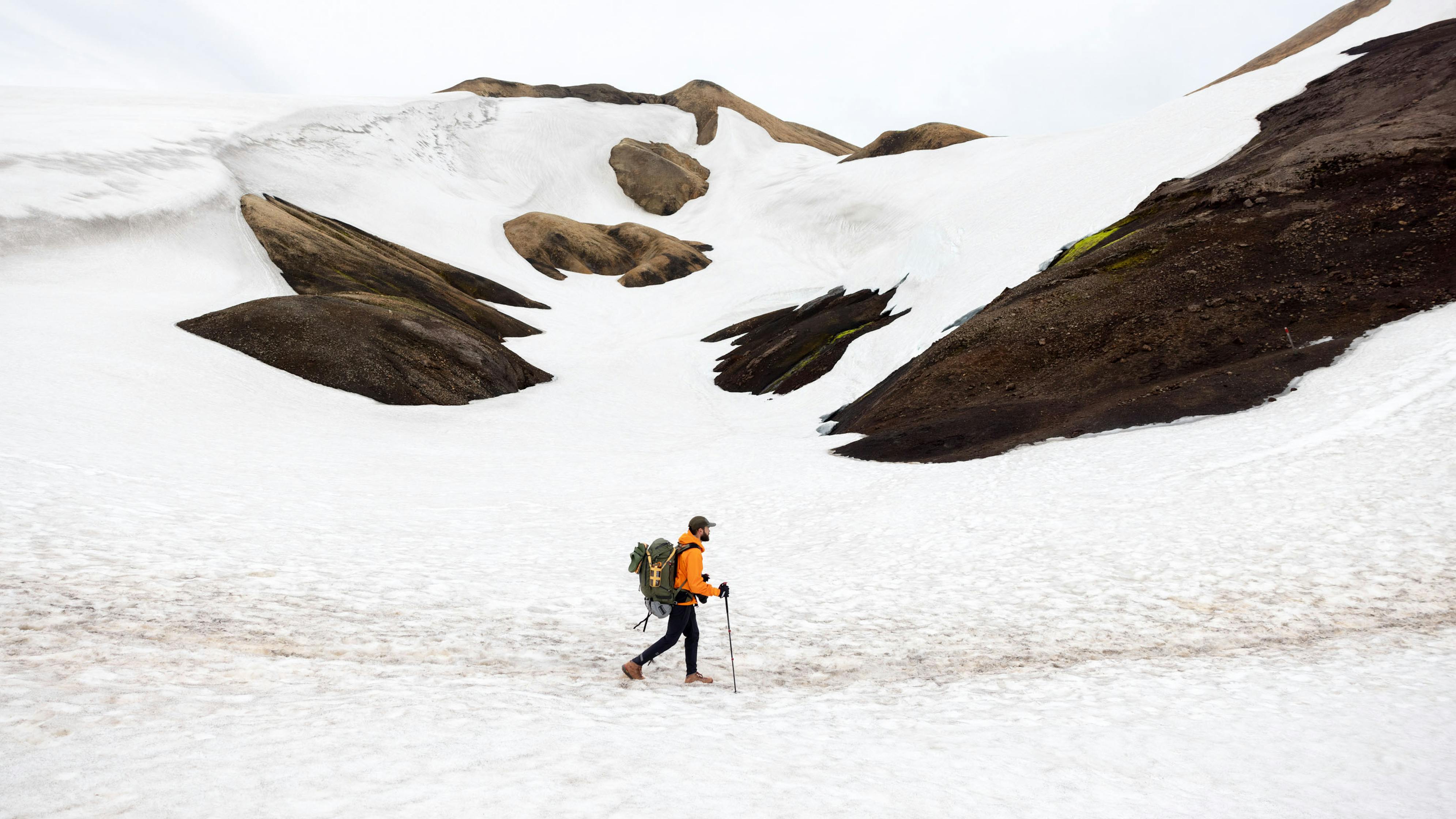 NORÐUR Journal
Laugavegur trail
Alex Strohl, photographer
Location
63° 58' 58.80" N -19° 04' 1.20" W
"It's humbling to walk an entire day in the rain, being shaken by the wind," says Strohl of the storm that enveloped the trail halfway through the first day. "It's just you in your head—even if you're walking with somebody you can't hear anything with the wind. You have to bring in some meditation."
Alex Strohl & Benjamin Hardman
Professional photographers and filmmakers Alex Strohl and Benjamin Hardman are no strangers to Iceland's surreal landscapes and notoriously temperamental weather. Strohl has made around 15 trips to the North Atlantic island; Hardman lives there full-time.
Last July, the two friends and 66 North ambassadors embarked on an extended hike of the Highland's iconic Laugavegur route—something they jokingly referred to as the "Long-avegur."
The plan was simple: experience the otherworldly landscapes of the classic Laugavegur while tacking on a few additional summits and extra mileage. The weather, as is often the case in the land of fire and ice, had other plans.
"It's humbling to walk an entire day in the rain, being shaken by the wind," says Strohl of the storm that enveloped the trail halfway through the first day. "It's just you in your head—even if you're walking with somebody you can't hear anything with the wind. You have to bring in some meditation."
Hardman and Strohl didn't arrive in camp until nearly 1:00 a.m. the first day. Due to Iceland's midnight sun (or midnight ambient storm light, as it were), darkness never overtook them. In fact, in those conditions, they contemplated walking straight through in 24 hours to avoid staying in their soaked tent.



They opted to stay on the trail and found silver linings: the pair walked through miles of lava fields that, in dry conditions, typically batter your face with sand; safe to say, the duo didn't encounter those particular inclement conditions. At another point, they were treated to a warm meal at an unopened restaurant by friends of Hardman (it pays to know a local). And despite the storm—or in part, perhaps, because of it—the two photographers captured images of Iceland in its most natural attire. "When I'm in Iceland, I really want to embrace the grey and the fog," says Strohl.
"We're thinking about colors in a different way." He explains how their decision to go in Iceland's early season, July, while snow was still present along the trail, created a unique palette of orange and white. Strohl always packs a small 35mm analog point-and-shoot—an Olympus Mju ii—in his hip pocket. It's a little extra weight (and Strohl is an ultralight connoisseur), but it's a tool he has ready at a moment's notice to capture the little moments in between. After all, it's those memories—from soaking river crossings to snapped tent guylines to the most appreciated of warm meals—that make an adventure in any conditions with good company worth it.