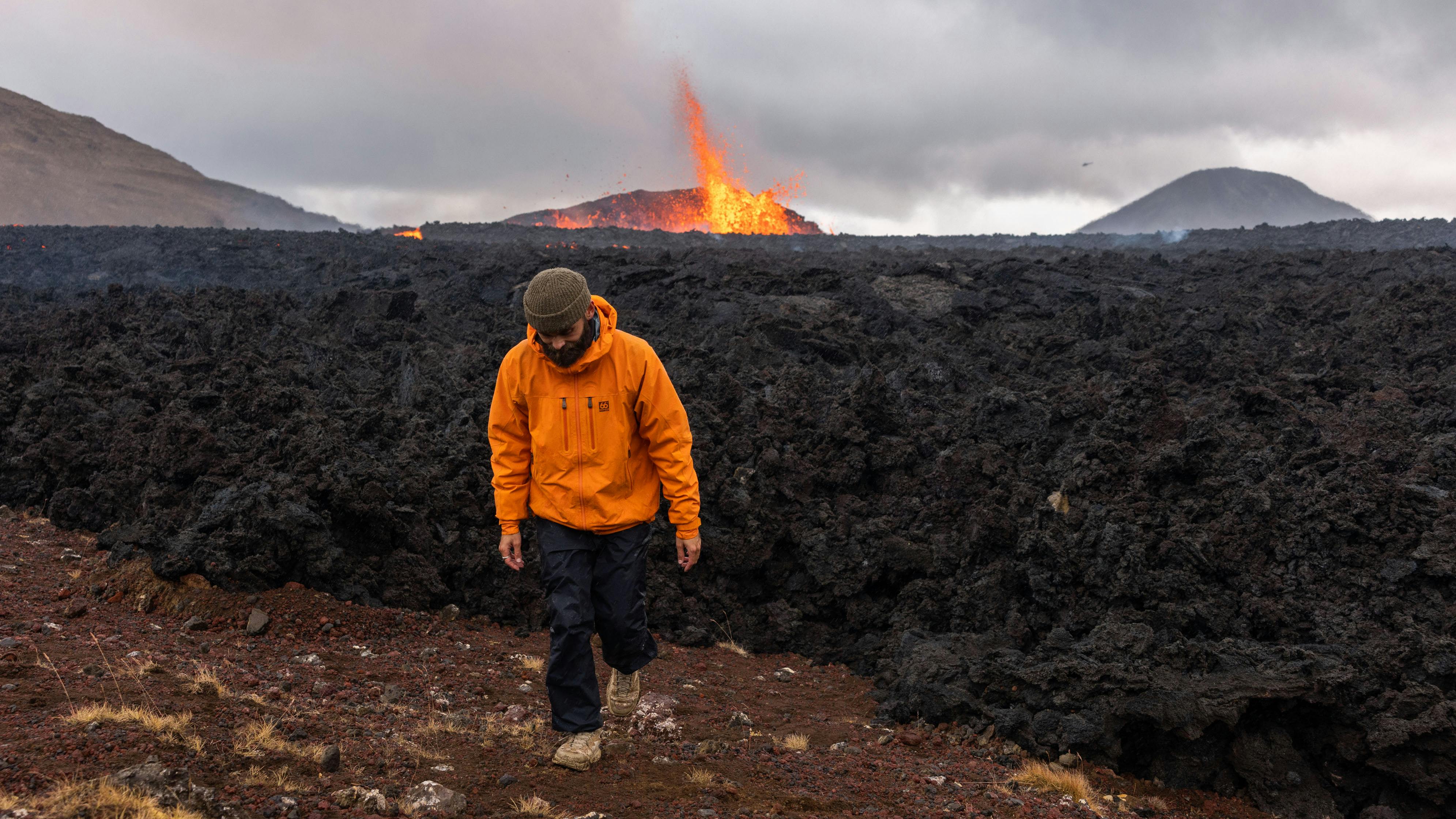 What to wear to the volcano
Iceland is called the land of fire and ice for a reason. On the 10th of July, after a week of hundreds of noticeable earthquakes a new volcanic eruption began in Iceland. Just like the previous eruptions in 2021 and 2022, it is located on the Reykjanes Peninsula, this time on the slopes of Litli-Hrútur mountain. With this spectacular natural phenomenon being truly a unique experience, many have made their way towards the eruption site.
Keep in mind that the eruption site is not a safe area. New erupting fissures and craters can open up anywhere without much notice. It is very important to follow the weather forecast closely and visit safetravel.is for everything you need to do and know about the eruption site at Litli Hrútur.
What to wear to the volcano
Be prepared for anything
Hiking to the eruption site is a true adventure. You're exposed to the elements and need to be prepared for anything. The weather can change very fast as you're hiking on top of a mountain for most of the way, meaning that you can very quickly end up in fog, rain, and wind. There are a few essential items that can keep you safe up there no matter the weather. Start your hike cold and prepare to overheat as you climb the first hill on the trail, it is important to layer down before you get too hot, consider it preventative maintenance to avoid sweating, which can be a real vibe killer if the wind picks up.
Layering
Básar Merino wool set is a great base layer to give you an essential layer of moisture-wicking warmth. Lightweight mid-layer zip-up fleecelike the Víkzipneck, this will be your main upper layer for hiking if the weather is on the nicer side. StraumnesGore TexInfinum jacket and pantsfor warmer days, Tindurshearling jacketor Esja fleece zipneckfor colder or windier days. Lightweight hiking pants. I opt for the Reykjavik hiking pants as they have a durable material and cargo pockets for storage. GoreTexshelllike Snæfelljacket and pants. The most essential items to keep you dry. I like to use a heavier GoreTex Pro shell, such as Hornstrandir jacket, as an upper layer for all windy and rainy conditions, and the lightweight Keilir Gore TexPaclite pants which I would only put on once it starts to rain so needs to be able to pack easily into my bag.
In the hiking bag
In my hiking bag, I also pack my Dyngja down jacket, which I put on as soon as I stop hiking. You can put it over your shell for quick stops on the way, or rearrange your layers to have it under your shell once you arrive at the eruption site where you won't be moving as much and will cool down.
Other essential items
At the new eruption area, the gas pollution is even greater than in last year's eruptions, it is not visible and cannot be detected by scent. Gas can disperse from the smoke cloud and pollution can increase rapidly in an area. It is advisable to carry a gas mask, and in the event of any distress or unease, leave the area immediately. A head torch and hiking poles are also essential items for this trail. Once the darkness sets in you will be relying on your head torch to find the trail markers. It is especially necessary if there is fog on the mountain, which is quite common up there. Apps like GAIA can help you to track the trail as you hike, meaning you will be able to find your way back if you lose sight of the trail markers.






Volcano hiking with the geologist
Get the chance to hike to the volcano with the guidance of Helga, a Ph.D. student in Geology.

Chris Burkard is an award-winning, self-taught photographer and artist whose images are punctuated by energized landscapes and moments of bliss, by adventure seeking and the lifestyle that ensues, by movement and intuitive light-working capabilities.