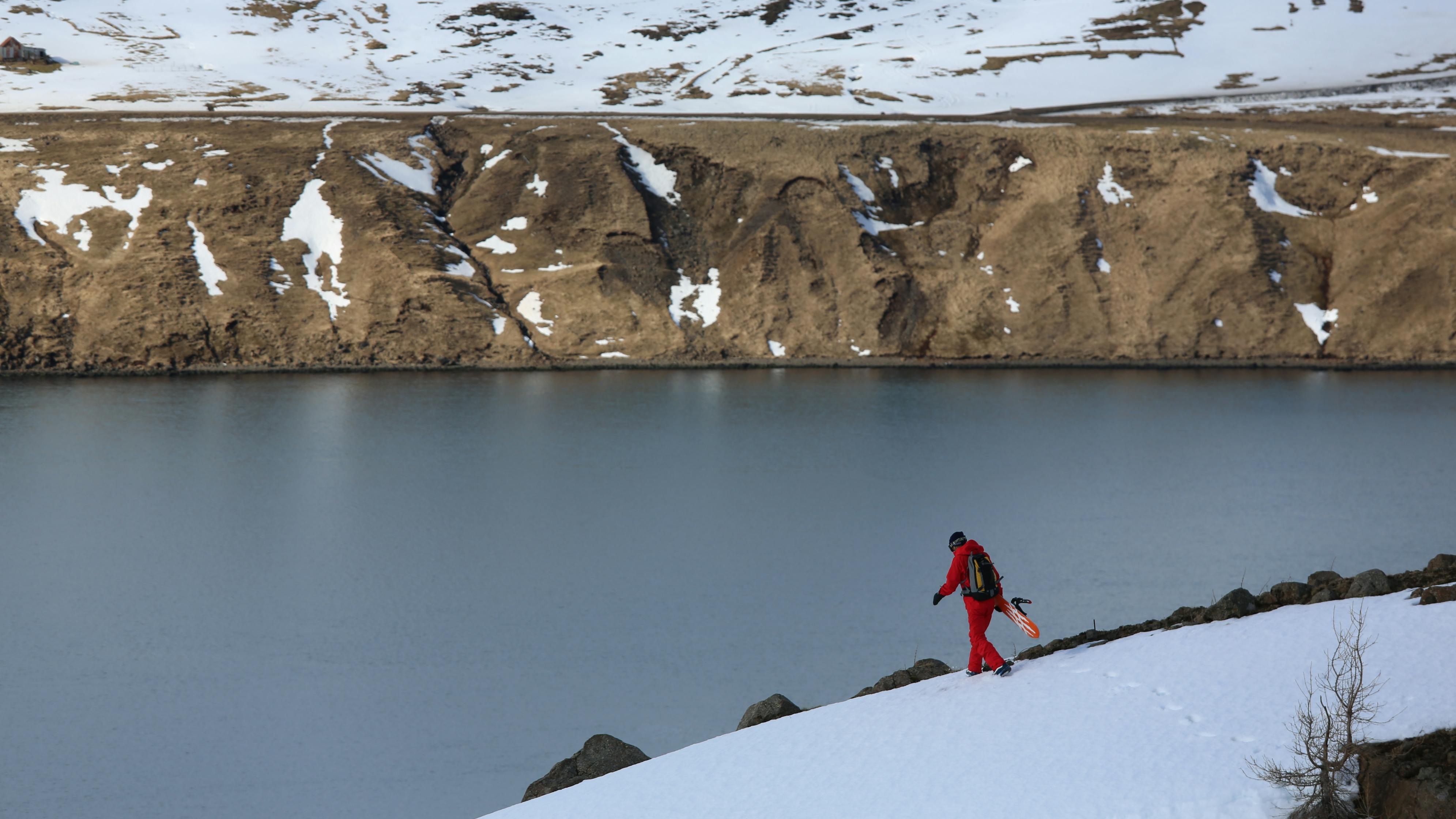 Ivar Petur Kjartansson
Full-time musician, part-time snowboarder
Directed by
Elli Thor Magnússon & Daði Jónsson
Photography
Elli Thor Magnússon & Daníel Örn Gíslason
Music
Ívar Pétur Kjartansson
The only thing I think about are snowboards. Even when I'm playing music.

Snowboarding has always been of the utmost importance to Ívar Pétur Kjartansson, who is best known for his role as the drummer of the band FM Belfast.
"The only thing I think about are snowboards. Even when I'm playing music. My snowboarding talents, however, did not come as naturally as the music and that is why I'm still involved in music, it pays the bills."
Ívar was born and raised in Seyðisfjörður, a town in the Eastfjords of Iceland with slightly fewer than 700 residents. The town is known for its diverse cultural life and the annual art festival LungA which draws in large crowds. Ívar's childhood was characterized by simple pleasures and non-stop fun and games. The kids had a great deal of freedom. As long as they attended school and came home for dinner, they had the rest of the time to do whatever interested them the most. For Ívar it was music, skateboarding in summer and snowboarding in winter.

"Having lived and worked in Reykjavík, I realized what a privilege it was to grow up in Seyðisfjörður. We had a great deal of freedom, particularly within the safe circle of the mountains surrounding the town. Thinking back, it was really the entire community that looked after us kids, no matter what our interests were. So the saying "it takes a village to raise a child" is extremely apt."
"Us boys were mostly in music and on boards, we got the steelworks to construct a rail for us. Then we borrowed musical instruments from older musicians in the town and the keys to the music school from the headmaster of the school. We destroyed several handrails in town, including the one in front of the offices of the local authorities."
"In winter, we did pretty much what we wanted to in the town's skiing area. The staff there, along with several willing helpers, used the piste caterpillar to create jump ramps for us following our specs and gave us a ride up to the top when possible. Every passing year I understand better and better the never-ending opportunities one can find tucked away in the mountains in Seyðisfjörður, and in East Iceland as a whole. The mountains provide world-class off-track conditions."

"Over 30 years ago a tree planting campaign was launched in the town to provide better shelter from the wind. When the weather is bad and visibility is poor, these trees provide excellent shelter and make it possible to ski, something that would not have been possible if they weren't there. When I was in nursery school, I even planted a few trees there myself and these have grown with me."
Listen to the band FM Belfast on Spotify
"Everybody who spends any time outdoors in Iceland knows that you get a tremendous variety of weather at any time of the year. I find it most important, whether I'm snowboarding or hiking in the mountains, to have a good, light watertight and wind proof shell jacket and trousers. If the shell is properly cared for you can be ready for any eventuality simply by putting on the right clothes underneath."

"On cold winter days in powder snow few things are better than a woollen base layer, something I would actually prefer to wear all year round. Then I usually put on a pair of Primaloft pants and then a parka on top to provide me with extra insulation under the shell. Then when spring comes around and it gets warmer in the mountains, I don't need as much insulation and make do with woollen underclothes under the shell."
"It is a lot of fun being outside in all kinds of weather, and to do so one has to have the right clothing. That is why I always have an additional warm and technical down jacket for the worst snowstorms and harshest cold. Finally, the ever-useful woollen pullover is my "go-to" clothing all year round, whether I'm camping, at an outdoor festival or at a good après ski get-together after a long day on the mountain."
What to wear
Ívar's favourites