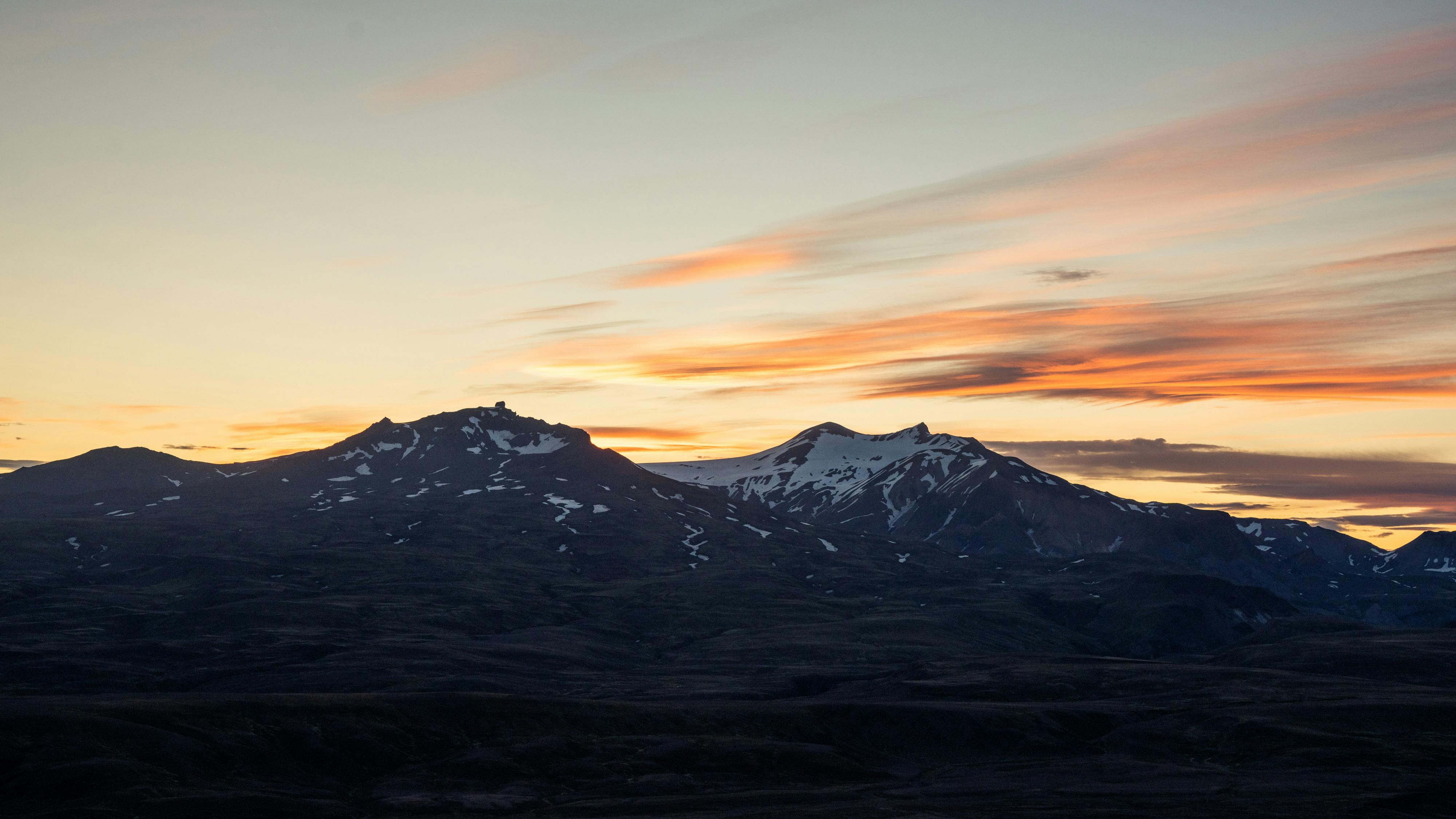 Midnight sun adventures in Southern Iceland
Arctic glow
Photography
Eydís María Ólafsdóttir & Benjamin Hardman
Location
63° 26' 15.6444'' N 20° 16' 2.3556'' W
24 hours of light during Icelandic summer — the opportunities to explore are endless
With 24 hours of light during Icelandic summer, the opportunities to explore are endless. Benjamin and Eydís headed south to explore Vestmannaeyjar (Westman Islands) and Þórsmörk (Thorsmork) for a mix of natural wonder, great food, culture and midnight hikes. A very full day.




10:22 AM
First stop was Stórhöfði, the southern tip of the island Heimaey, home to thousands of puffins. Landing at their nesting sites on the cliffs, it is possible to get a close up look at them via the special 'puffin hide' set up on the hill. 



11:16 AM
Then we went hiking up the volcano Eldfell to get a close up view of the lava from 1973. It was super windy!

12:41 PM
Next up was a meal at the restaurant Gott, where we enjoyed some fresh local cod - straight from the waters around Vestmannaeyjar. 
---
13:30 PM
Then onto Eldheimar museum. After the 1973 Eldfell volcano eruption buried a section of the town in ash and lava, one house was fully excavated and sited inside the museum to show the story of how people fled the islands and how locals fought off the lava by pumping sea water over it to protect their harbor (the heart of the town for fishing) from being completely covered.







15:07 PM
We finished exploring Vestmannaeyjar with a drive to the north side of Heimaey to see the Urðarviti lighthouse and surrounding lava cliffs. There were fascinating formations from where the lava ran into the ocean during the eruption.
19:06 PM
Catching the ferry back to the mainland, we began our drive into Þórsmörk - the valley of Thor. Carved by millions of years of glacial floods and volcanic eruptions, this luscious green valley is a magnificent place to experience the midnight sun.
After a series of river crossings and an exciting drive all the way in, we made our way to the Volcano Huts in Húsadalur.







Þórsmörk, carved by millions of years of glacial floods and volcanic eruptions.
12:15 AM
Ending the day under the midnight sun was a really special experience. The birds where singing all around as we hiked through a silver birch forest and up to the peak.
Getting to the top, we were treated with a 360˚ view of the valley, with braided glacial rivers and beautiful streaky clouds illuminated in a soft orange glow.
Just past midnight it was time to rest, finally. Even though the sun didn't go down, the day had to end.
What to wear
Benjamin's and Eydís favourites