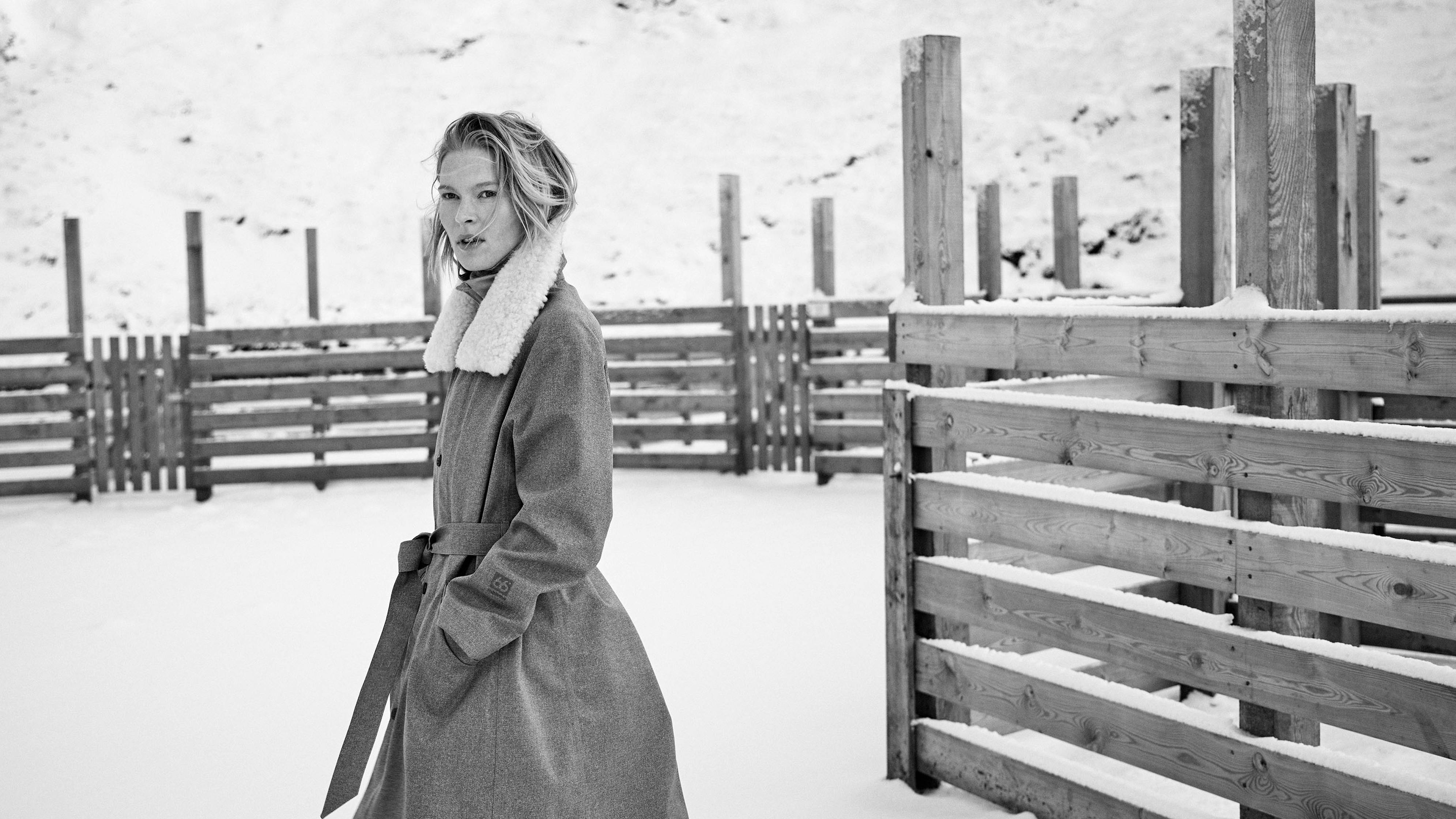 Sölvhóll
The Sölvhóll Collection is handmade in Iceland in a limited quantity
Sölvhóll shearling will protect you as nothing else can.
The Sölvhóll product line is a series of heritage-inspired premium garments, all of which are handmade in Iceland and in limited quantity. Blending Icelandic shearling with functional and waterproof outer layer fabrics, the product line has been designed to keep you warm.
All shearling used by 66°North is an ethically sourced by-product of lambs from family farms in Iceland, as such, the shearling is a sustainable material.
The Sölvhóll Collection consists of a coat, trench coat, bum bag, and a stroller bag.




Sölvhóll Coat
The Sölvhóll Coat is handmade in Iceland in a very limited quantity. The inner layer is made of soft Icelandic shearling, keeping you insulated and warm. The outer layer utilizes a functional three-layer waterproof fabric with taped seams. Both the shearling and outer layer can be worn separately, creating a diverse 3-in-1 garment. Waterproof (minimum 20.000) and breathable fabric (8.000MVP). Fabric: 100% Polyester.

Sölvhóll Trench Coat
Sölvhóll Trench Coat features a 3-layer shell fabric with a removable Icelandic shearling collar that can be worn down or folded up high against the neck. The coat comes with two types of waist belts, one focused on heritage styling, the other to contrast against the functional fabric of the outer shell. Handmade in Iceland in limited quantity.

For the rest of your life
66°North's Sölvhóll Collection marries the natural qualities of Icelandic wool with the functionality of technical fabrics. The design takes cues from the classic shearling coats of the 1940s, the unofficial uniform for many an Icelandic worker last century. Go around Iceland and it is not unusual to see young people wearing shearling coats inherited from their parents or even grandparents. With any material in the world readily available, woolen shearling still remains immensely popular – after all, it has evolved naturally for this particular place, this particular weather.
With good care, the Sölvhóll Collection can last your whole life, or longer. As always, we are committed to keeping our garments in use. 66˚North will repair any product we've ever made, whether it's from a few seasons ago or anytime last century. We make sure to keep a stock of materials like zippers and buttons so we can keep that promise.

The updated version of the old shearling coat is the quality coat Sölvhóll, a timeless and classic luxury item with properties that equal those of highly developed, high-tech outerwear. At the same time, the coat has a strong reference to Icelandic culture and history.
The Sölvhóll Collection is handmade in Iceland in a very limited quantity. This makes it easy to guarantee the highest possible quality, especially since all our shearling is an ethically sourced by-product of lamb-rearing, sourced only from Icelandic family farms. 


"With the creation of the Sölvhóll collection, our aim is to honour the memory of the first "shearling coat", which was produced in Iceland around the middle of last century. This incredible coat was for a long time an Icelandic uniform of sorts, where both young and old wore it to ward off the unpredictable Icelandic weather."
A note from our Shearling specialist and consultant Sunneva.
Sölvhóll Bumbag
The Sölvhóll Bumbag was designed to salvage the last of the shearling off-cuts left over from the production of the Sölvhvóll coat. Transforming these off-cuts into an additional high quality and a long-lasting item is one of the ways that we seek to increase the sustainability of our products. The Sölvhóll bumbag is handmade in Iceland in a very limited quantity. All shearling used by 66°North is ethically sourced from family farms in Iceland

Care instructions
Made using Icelandic shearling.
The Sölvhóll products are handmade in Iceland in a very limited quantity. The Icelandic sheep have survived for more than a thousand years and have developed wool that is uniquely adapted to cold and wet conditions. All shearling used by 66°North is an ethically sourced byproduct from family farms in Iceland. Until modern fabrics were created in the 20th century, it was the only source of protective clothing in Iceland.
Shades and colors may vary due to the nature of the shearling.
Shell care: Use professional cleaning. Do not dry clean. Mild washing process at 30°C. Do not bleach. Do not tumble dry. Ironing is possible at low temperatures.
Lamb shearling care: Use professional cleaning and leather treatment. After 2–5 washes, the finishing begins to fade. Recommended to spray with silicone.
With good care, this item can last a lifetime.

Photo by RAX - Ragnar Axelsson
Wandering Freely
As the first drops of autumn rain begin to fall, the Icelandic farmers head into the wild to gather their sheep. They are scattered all over because Icelandic sheep wander freely all summer long: up mountains, along sandy beaches, and through valleys rich with grass and heath. Ewes scuffle along, making sure their precious lambs don't get into serious trouble. Rams stand by–alert, protective–their eyes locked in concentration onto any onlookers.
One often encounters flocks of sheep when exploring Iceland in summer. If you look closely, their woolen white figures tend to dot the landscape from afar. There is even a special term for the paths they forge in the landscape: 'kindagötur'–sheep's streets. Up close, they are charming in their own way, guarded but mostly curious. If you're lucky, you might come across whole families stealing a nap in the soft, cuddly moss.

Photos by RAX - Ragnar Axelsson
Thousand Years in the Making
Sheep are as much a part of Icelandic history as humans are. Brought over by settlers in the ninth century, their woollen shearling was our only source of protective clothing for over a thousand years. Over time, the sheep adapted to the cold and wet conditions in Iceland, growing unique wool with two distinct layers we call 'tog' and 'þel'. The outer fibres–tog–are long and coarse, with glossy, robust and watertight properties. The inner fibres–þel–make for the undercoat and insulation layer. Soft and delicate in touch, this layer has provided both humans and sheep with solid protection from the cold for centuries.
To put it plainly, civilisation may not have been tenable on this little island if there wouldn't have been sheep. So an unbreakable bond was forged between the locals and the sheep, visible to this day on our menus and in our attire, but also in the myriad ovine traditions honoured by Icelanders. For example, the annual 'réttir' is a local high point of the year. After the sheep have been herded they are gathered in a circular pen where they are separated. All the farmers in the area (and all their friends and extended family) help each other out with identifying the sheep and bringing them home. Of course, all of this takes place with some drink, a lot of 'baaaahs' and much merriment, topped off with a dance in the evening.

NORÐUR Journal
Sheep herding on Breiðamerkurfjall
Keeping a centuries-old tradition Icelandic sheep farmers choose to keep their sheep up in the mountains during summertime where they roam free. Every year, autumn arrives with the monumental task of herding them back down.

66°North doesn't want to settle for "sustainable." We want to help the Earth. As Icelanders, we take pride in making things that last, minimizing waste, and living in harmony with nature, as we have done since 1926. In 2019, we became carbon offset, in 2021, we became a bluesign® SYSTEM PARTNER. But to us, these initiatives are only the beginning.