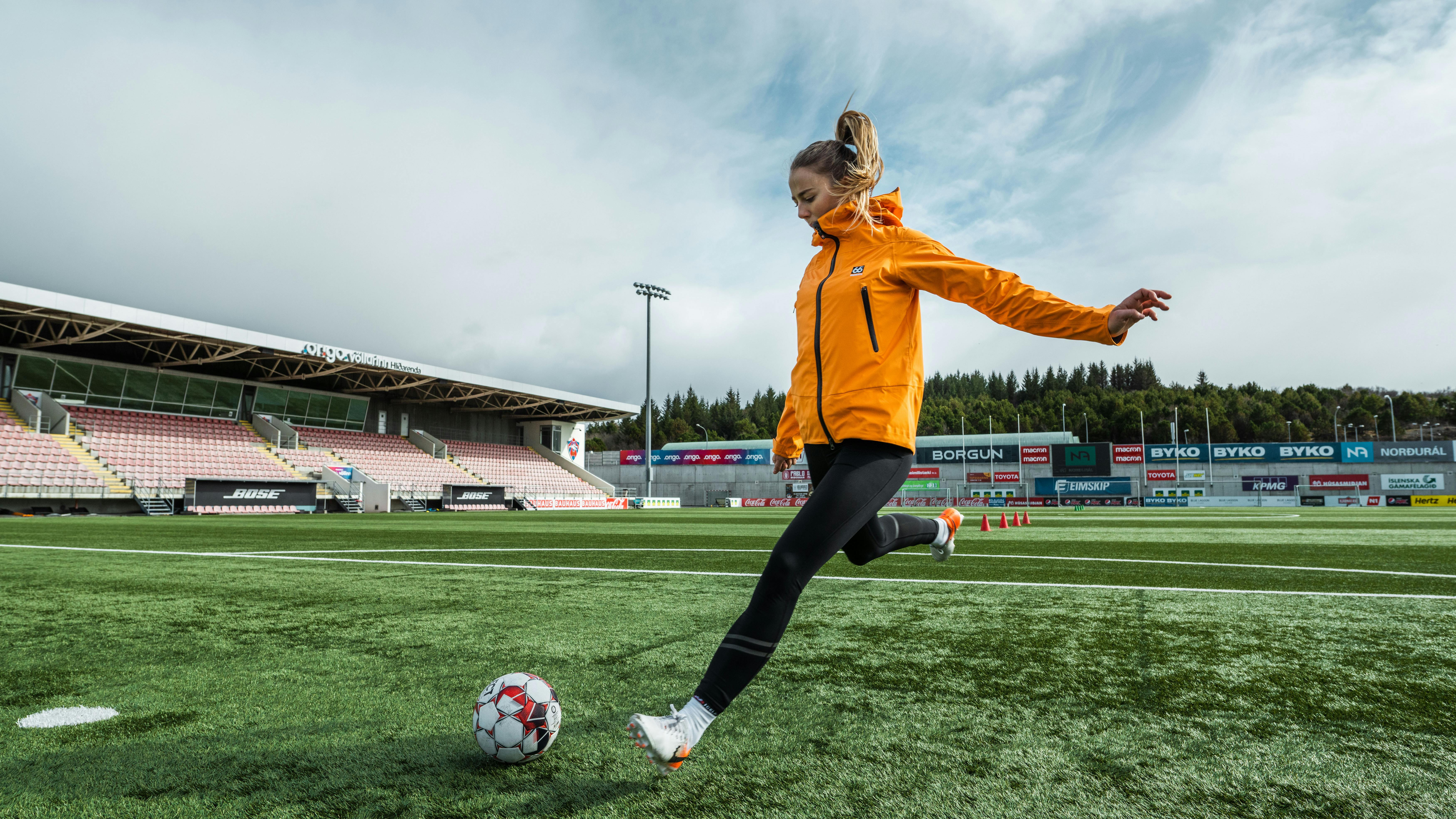 Turning obstacles into motivation
Directed by
Þorsteinn Roy Jóhannsson
Photography
Benjamin Hardman
Location
64°08'7.73" N -21°53'43.48" W
Professional soccer player, full-time medical student
From a young age, soccer has played a big role in the life of Elín Metta Jensen. Elín's early upbringing was largely spent on the soccer field, running around with her Dad. Based out of Reykjavik's football stadium named Hlíðarendi, she officially started to train at the age of just five years old.

Despite spending her first-ever kids match focused more on doing cartwheels on the sideline than her performance on the field, her talent was quickly realized by all around her. Today she is known as one of Iceland's top-performing athletes. Over the last few years, she has played a key role as a striker in both her local team Valur, and also in the national team of Iceland. Whilst these roles take up a lot of energy, time, and focus, Elín has managed to follow her passion and pursue a full-time degree in medicine.
It's not so straight forward for a medical student to play soccer at a world-class level on the side of studying. To keep the ball rolling with both passion and study is quite a demanding project, especially when the reading materials for medicine studies are so comprehensive and time-consuming to read through.
Whilst a heavy workload on all accounts, Elín has been able to balance her busy schedule with a remarkable level of perseverance and achievement along the way.
"You always think there's something magical about the success of your role models. The reality is that you just have to be dedicated and put in a lot of hard work"

You get nowhere if you don't have a dream or goal to follow. You always need to aim for something.
Elín Metta's incredible journey hasn't come easy, experiencing her fair share of challenges and setbacks along the way. At the end of 2016, her father passed away after a difficult battle with cancer. In many respects, that battle has shaped her outlook and priorities in life today. She told us of the way she was able to turn the situation around.
"Though it was such an unbelievably difficult time in my life, in some way it provided a light that guided me forward, pushing me to work towards my goals."
To play soccer outside in Iceland can certainly be interesting, though swampy fields, heavy wind, unexpected snowstorms, and bone-chilling cold are all things that Icelandic players know well.
Freezing cold conditions also mean that the national stadium soccer field requires special heating equipment to warm it up in preparation for matches in the Autumn season.
"I remember a time when we literally had to shovel snow off the pitch at what was supposed to be the start of summer. The coach shouted to the team, head out to dig, out to dig! The weather here is just absurd sometimes."
One could however imagine that these difficult training conditions can be the basis for strengthening your endurance and prepare you for the often challenging weather that Icelandic athletes often face. Elín says that the extreme shifts in weather between winter and summer have an effect on her.
"Summer is absolutely magnificent, it's bright almost all day long. Then comes the darkness of winter, a cold, heavy and challenging time. There is just so much variation, I think it definitely has an influence both on how I think and generally my attitude towards life"



What to wear
Elín Metta's favourites