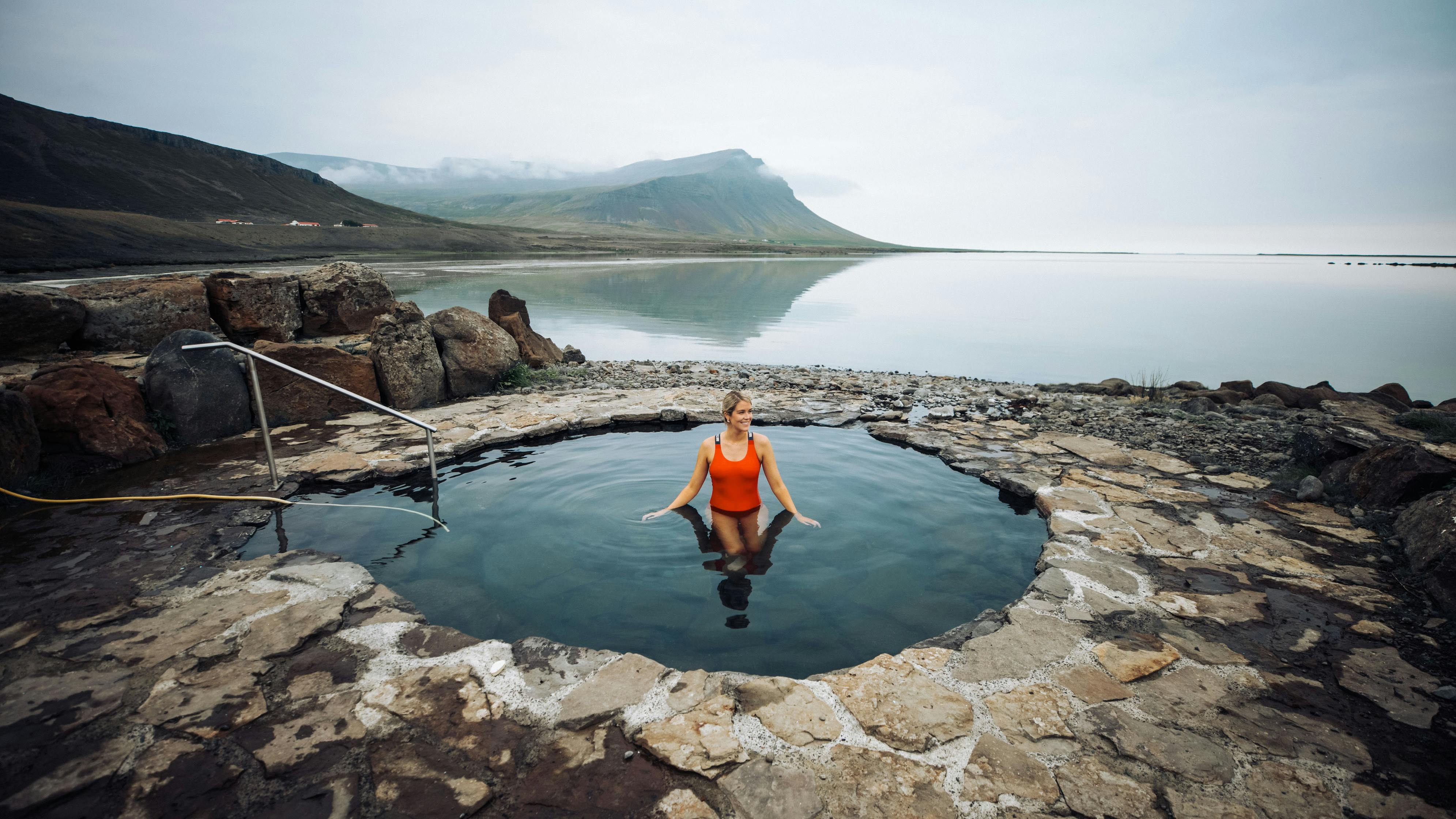 Ása Steinars
Bathing in Iceland
As an Icelander, bathing in geothermal springs is a very big part of our culture. It comes from living on a volcanic island, with cold harsh weather, but plenty of natural warm water around. Almost every little town has their own pool, filled with geothermal water and outside the cities, you'll find the countryside sprinkled with natural hot springs.

Almost every little town has their own pool
Filled with geothermal water and outside the cities, you'll find the countryside sprinkled with natural hot springs. It is thanks to the volcanic activity in Iceland there are so many hot springs. The water is heated up deep underground and makes it to surface level to create hot springs. The best thing about them is that they exist almost all over the country, so anywhere you go you can find a hot spring or a pool.
A place to catch up
For the locals, a visit to the pool is a weekly occurrence, sometimes daily. We use the pools as a place to catch up and it's deep in our culture. In a way similar to how the Brits go to the pub, but more relaxing. Some say this is how we survive the dark winters, and they might be right. Popping over to the local pool to see friends and get some fresh air never disappoints.
The northern lights
Then there is the holy grail of hot spring bathing when the northern lights come out. There's nothing better than going out with friends to a cabin, far away from the light pollution from the cities. After dinner, you all hop into the hot tub and suddenly the northern lights start playing in the sky. It can be painfully cold to wait for them outside in winter, but sitting in a hot spring is pure pleasure.
To me this is what makes Iceland the best place in the world.
Geothermal bathing and mental health
Geothermal bathing has a long history of improving mental health. For Icelanders, hot springs are not just a source of physical recharging, but also a place of socialising and relaxation. Many of the country's hot springs are situated in breathtaking natural settings, making them the perfect place to connect with others and unwind in the midst of stunning natural scenery.
In fact, the mental health benefits of geothermal bathing are so well known that many Icelanders incorporate it into their daily routines. Whether it's a morning dip in a local hot spring or a weekend excursion to a more distant location, geothermal bathing is seen as an essential part of maintaining physical and emotional wellbeing.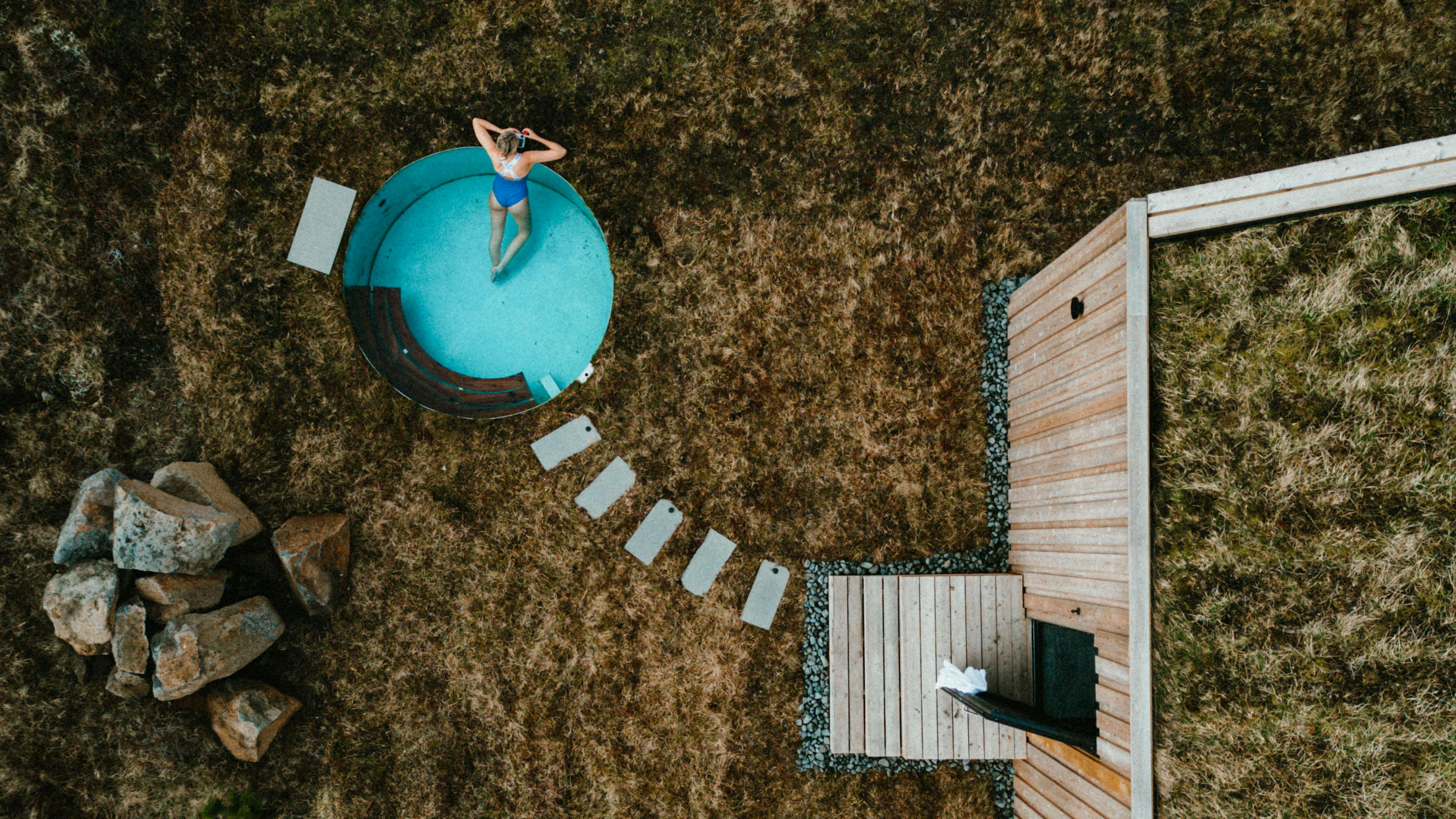 Straumur swimsuit
The Straumur scoop neck swimsuit features a one-piece design with a distinctive logo cross strap, crafted out of a chlorine-resistant material.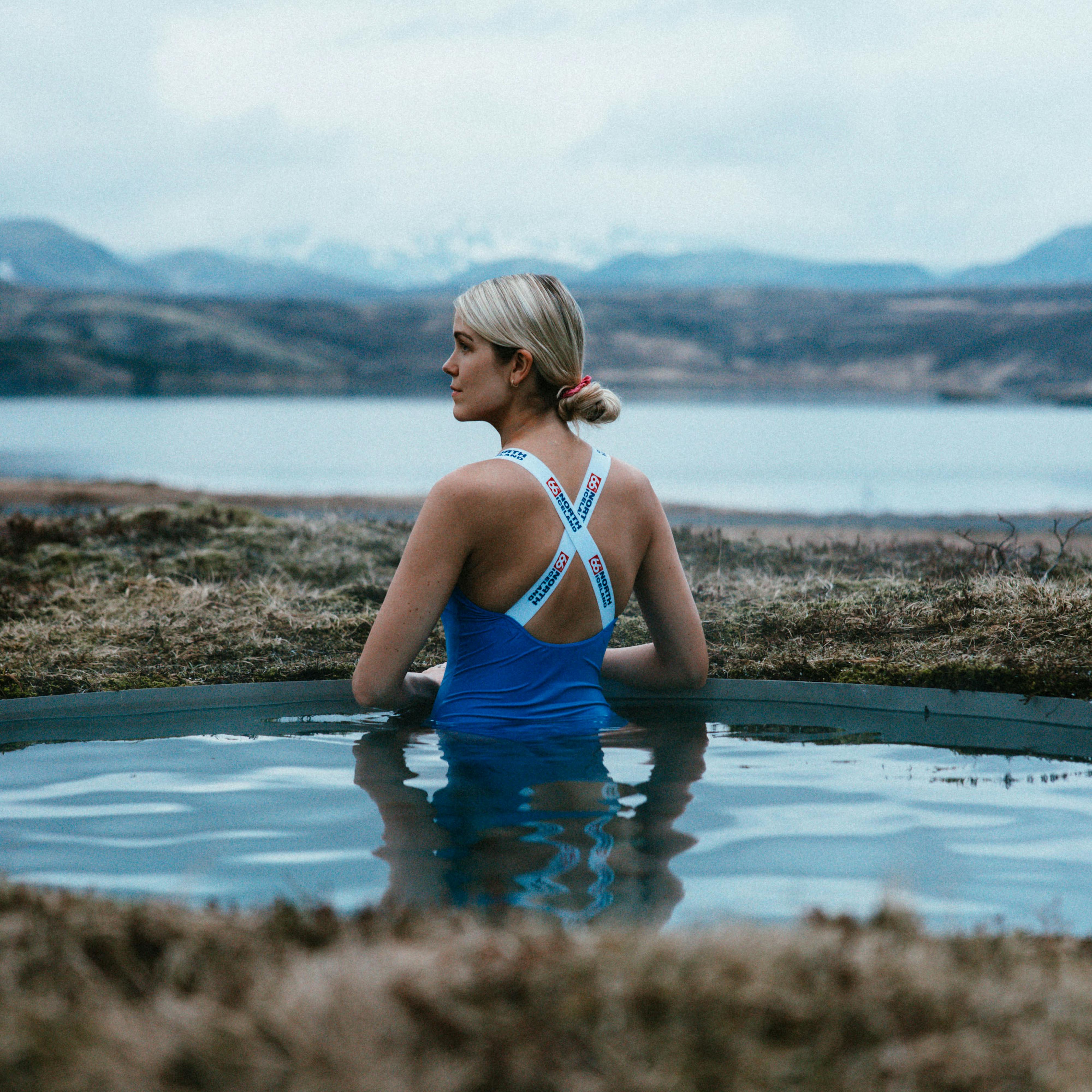 Alda swimsuit
The Alda scoop neck swimsuit features a one-piece design with distinctive logo cross strap and high leg, crafted out of a chlorine resistant material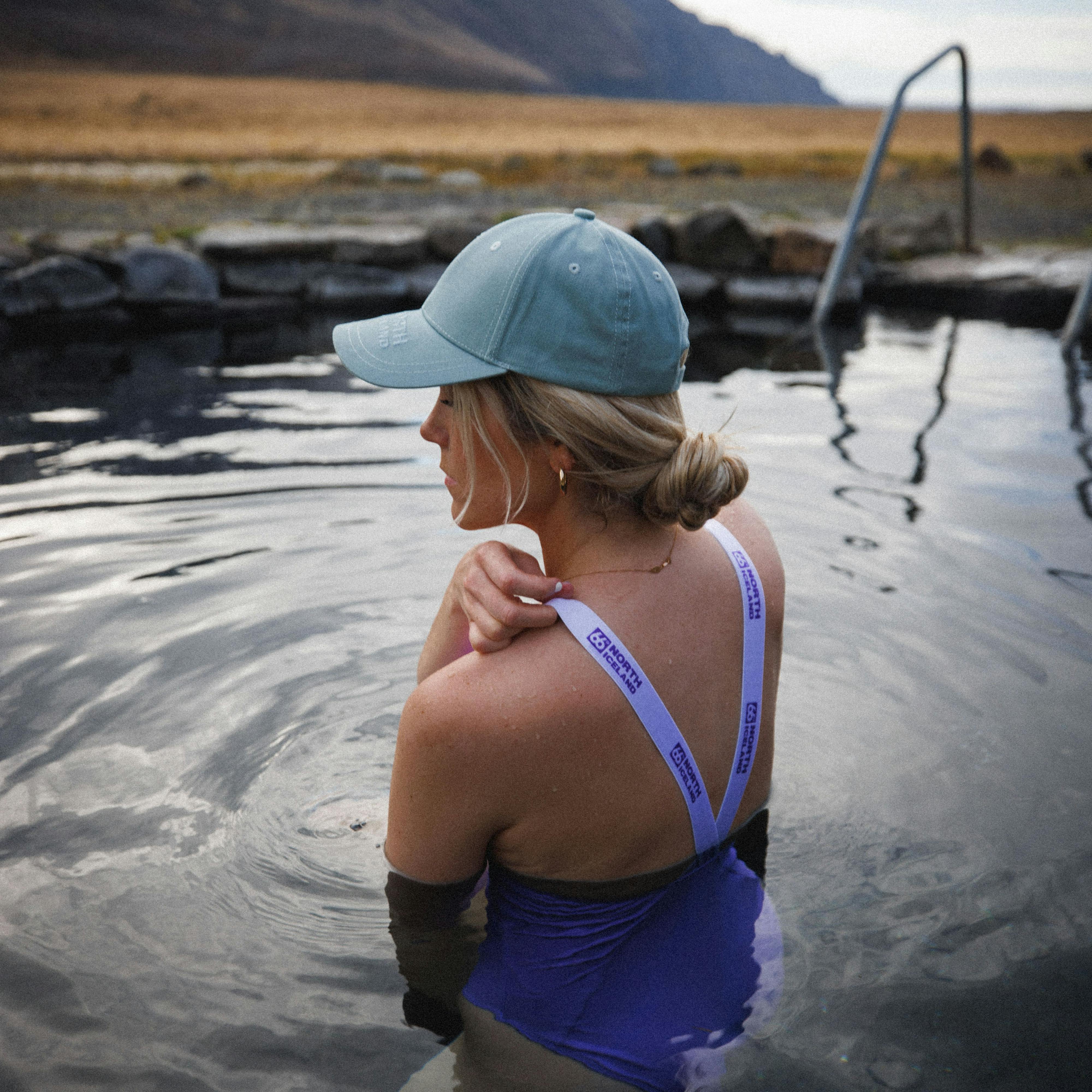 Cold water swimming
For years, Icelanders have taken advantage of living by the ocean by taking a swim or a plunge into the cold waters. But only recently have we realised the benefits of cold water swimming. It can improve your circulation, boost your immune system and enhance your mood. Cold water swimming is also believed to increase endorphins, which can help reduce stress and anxiety.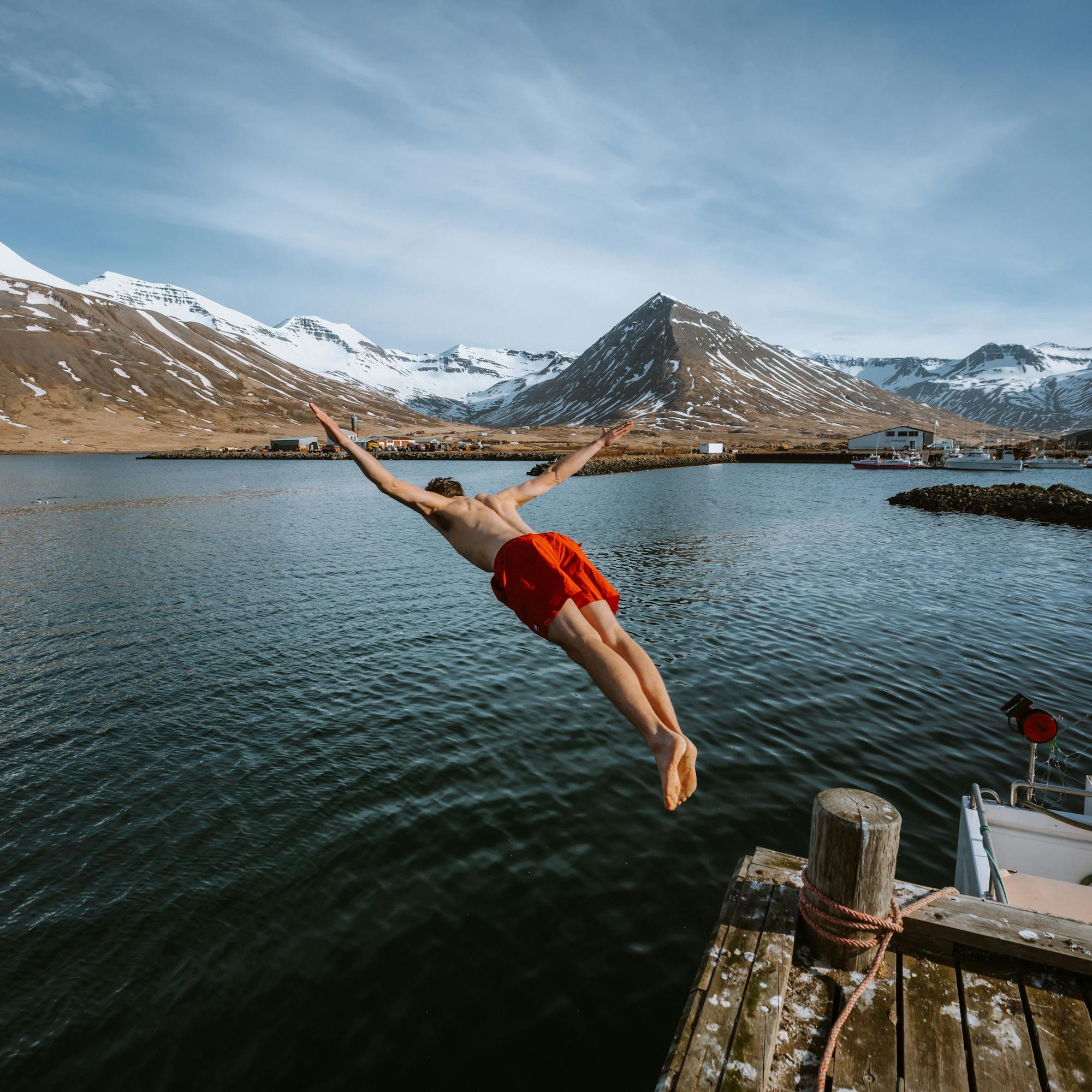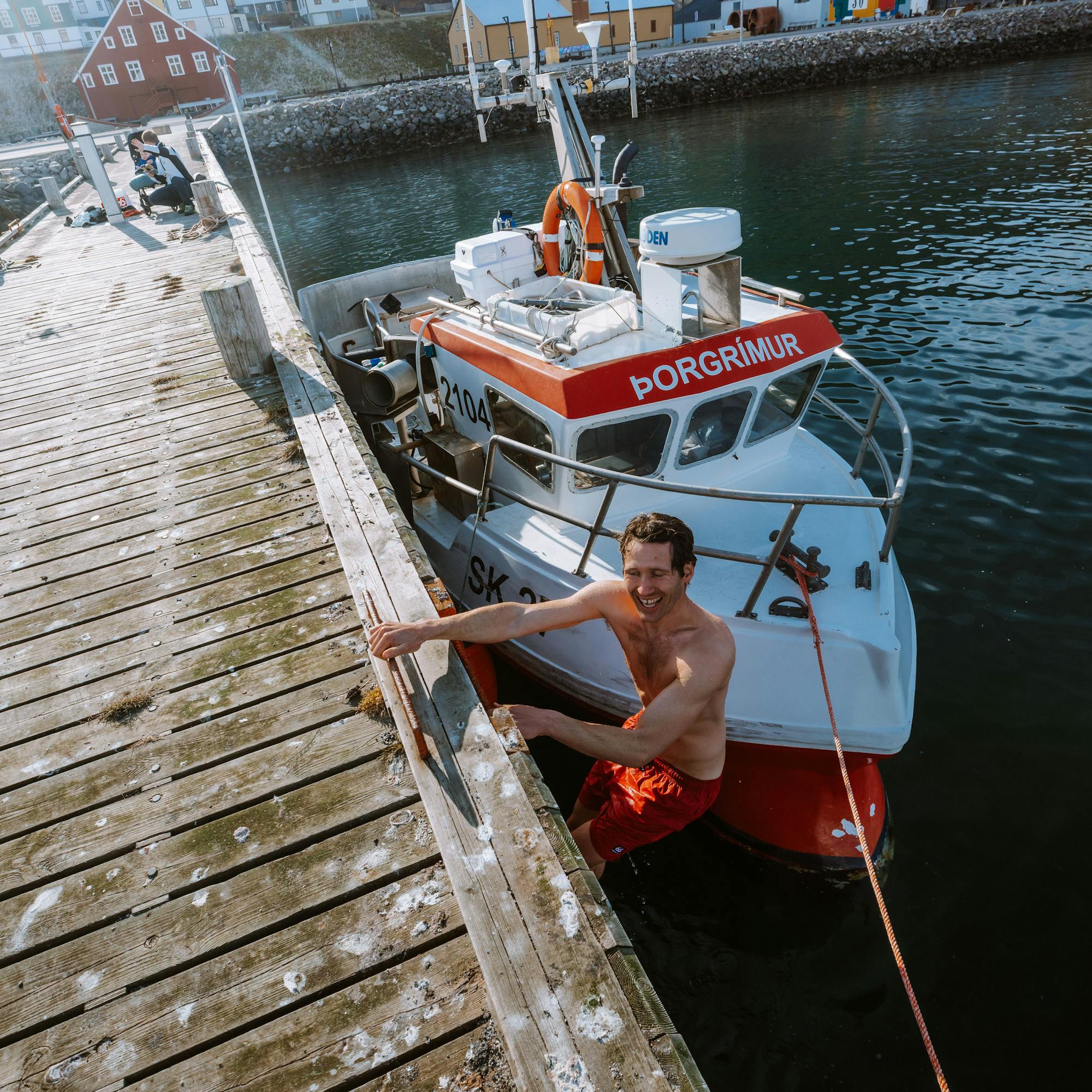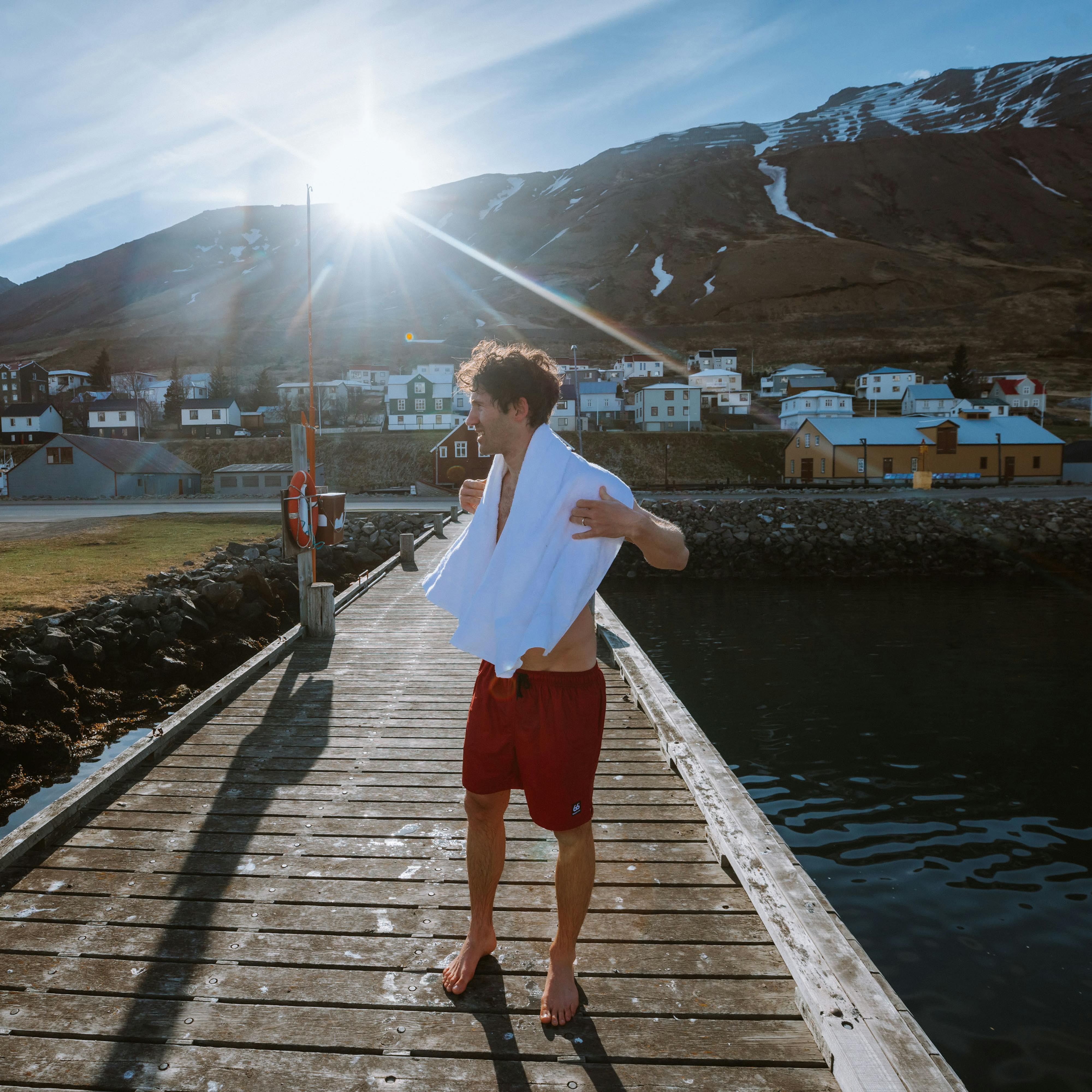 Here are my 6 favourite hot springs to visit in Iceland
To me, this is what makes Iceland the best place in the world. There are a few other places that have stunning nature and incredible landscapes. But nowhere else have I found the combination of natural hot springs and spectacular nature. The cold harsh weather combined with a hot soak at the end of the day, that's why I keep traveling around this beautiful country.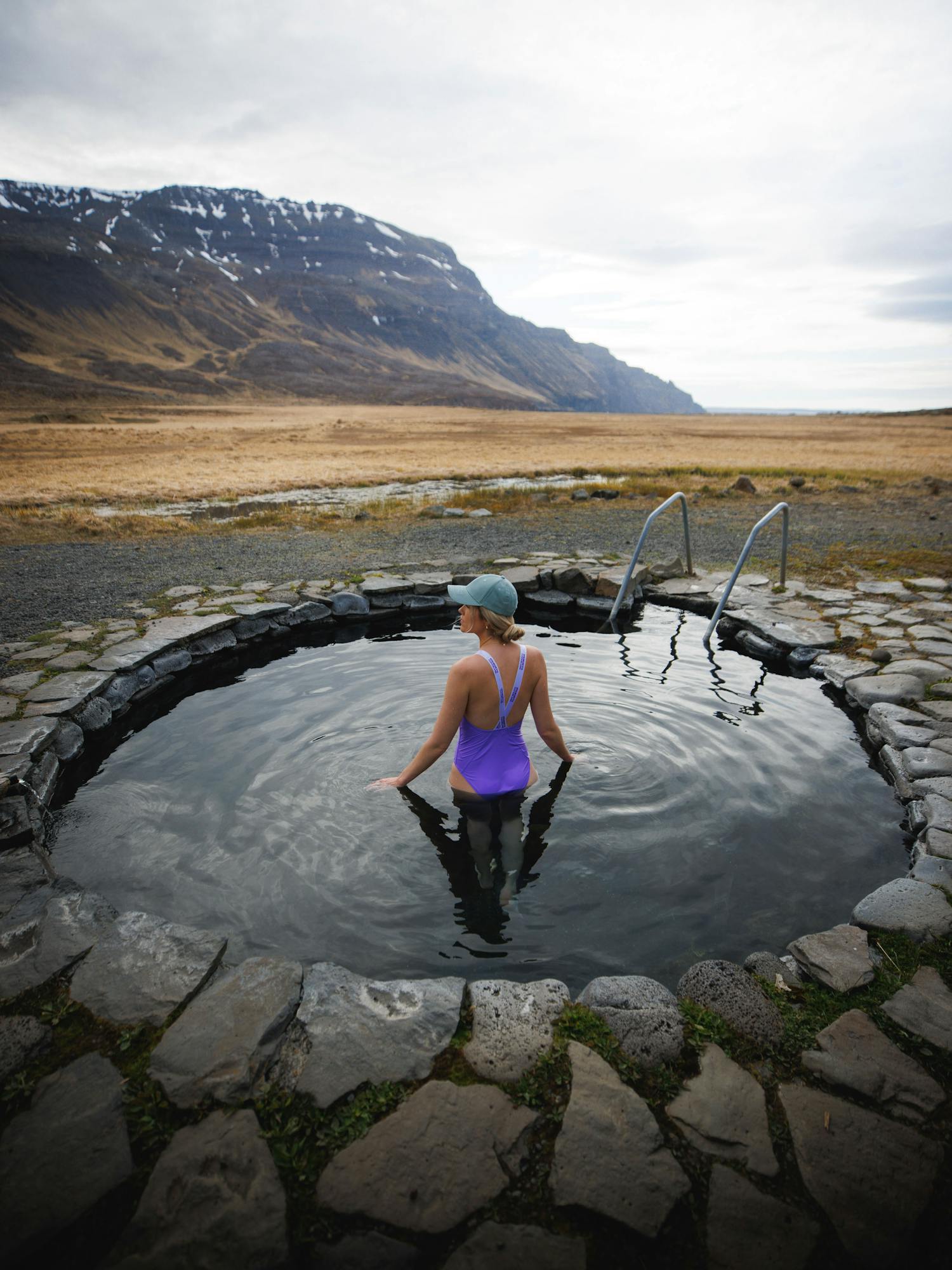 65°52,57''N 19°44,12''W

Grettislaug is a beautiful geothermal hot spring located in the northern part of Iceland. This natural hot spring is named after the famous Icelandic saga hero, Grettir the Strong, who is said to have bathed here to heal his wounds. The hot spring is surrounded by stunning natural scenery, with views of the sea and mountains in the distance.

The area has two geothermal pools, one larger and one smaller. The larger has water temperature around 41°C and the smaller one around 38°C, making it a perfect spot for relaxing.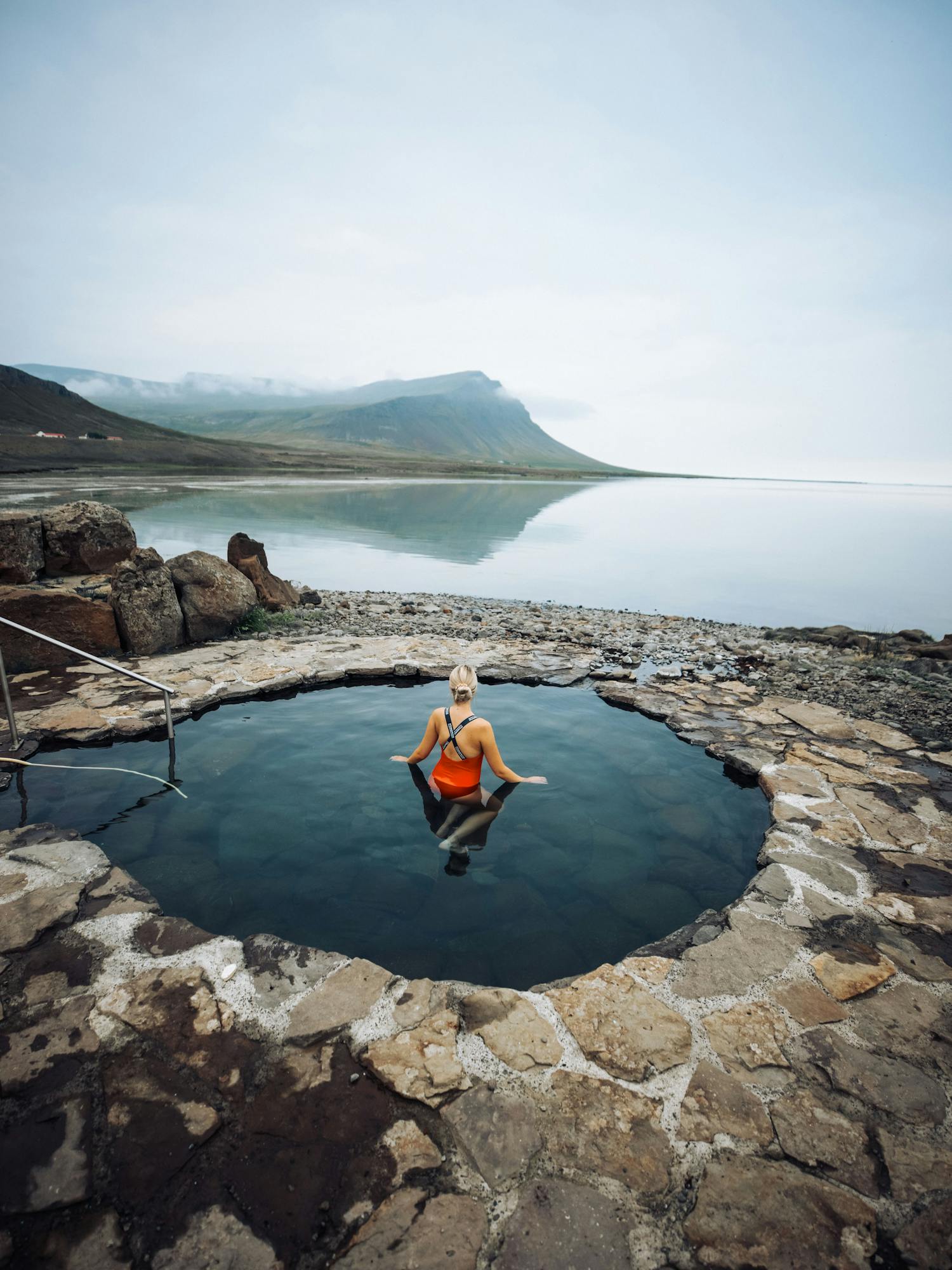 64°31,20''N 21°11,46''W

Krosslaug hot spring is a small pool in Iceland's Westfjords region. It has two pools, one that is built up like a normal pool and then a small natural hot spring.  It's located in a quiet place surrounded by mountains and overlooking the ocean. It's a good place to relax because it's not crowded like some of the other hot springs in Iceland.

Krosslaug is perfect for people who want to enjoy Iceland's beautiful nature and have a quiet and relaxing time in a hot spring.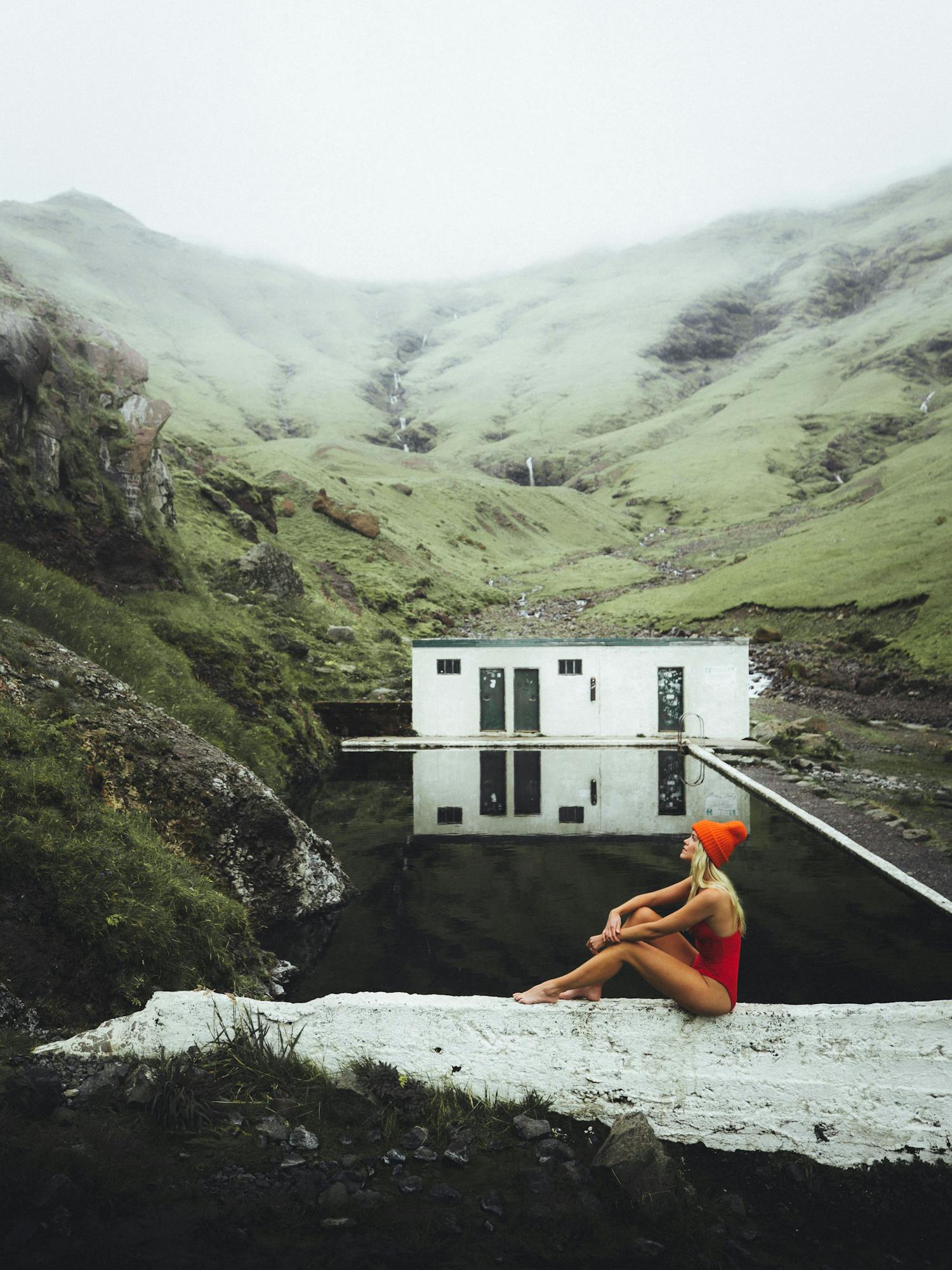 63°34'01''N 19°36,17''W

Seljavallalaug is an old swimming pool in southern Iceland. It's located in a pretty valley with mountains and a nearby glacier. The water comes from a hot spring which keeps it warm, even when the weather is cold. The pool is still used today, even though it's old, and it's been fixed up a few times to keep it in good condition.

Swimming in Seljavallalaug is special because you get to relax in the warm water and see Iceland's beautiful nature around you.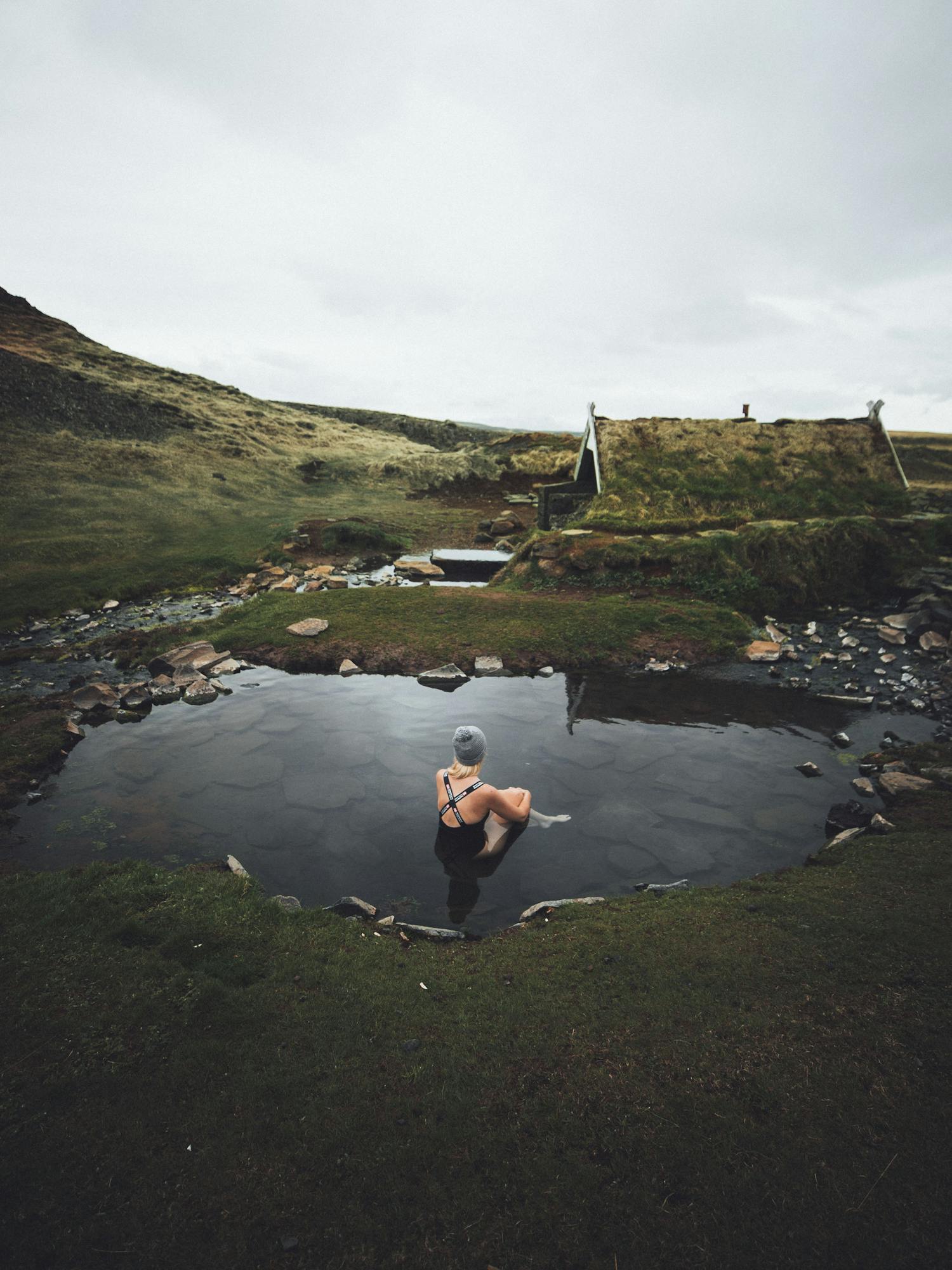 64°07,59''N 20°18,24''W

Hrunalaug hot spring is a small and beautiful pool in the south of Iceland, close to the Golden Circle. Even though it's small, lots of people like to visit, there's a tiny little turf house there that you can use as a dressing room. However this hot spring is getting quite popular, making it sometimes challenging to get a private moment there and sometimes you might even have to wait for others to finish bathing before it's your turn.

To get to Hrunalaug, you need to walk a short distance on a nice trail.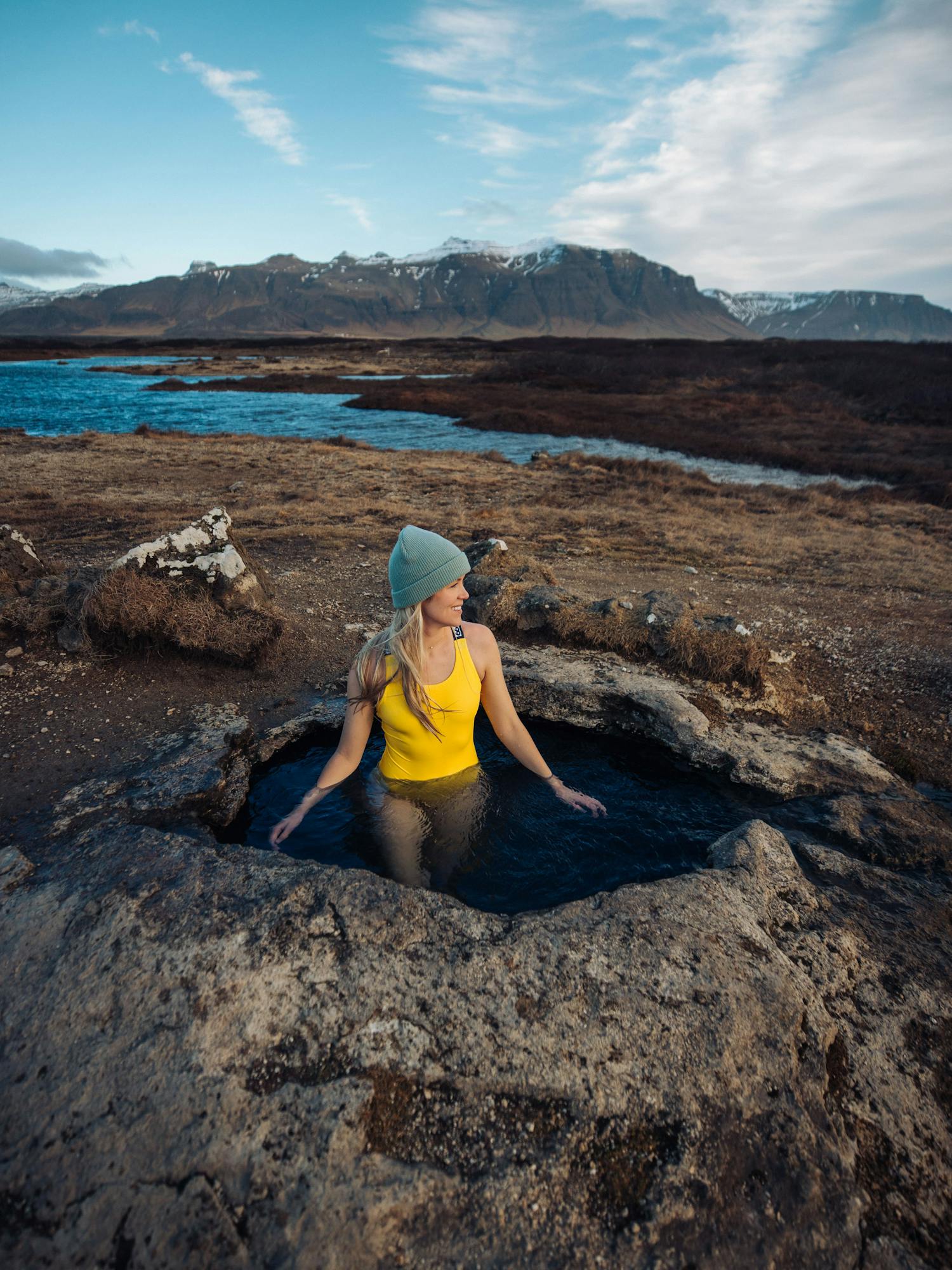 64°50,17''N 22°17,35''W

Landbrotalaug is a small, natural hot spring in Iceland's west on a Peninsula called Snæfellsnes. It's a tiny but deep hot spring fitting up to 1 - 2 people. The small size makes it a very cozy and unique place to bathe in. From the spring you have beautiful views of the mountains across the peninsula and possible Snæfellsjökull glacier in the distance.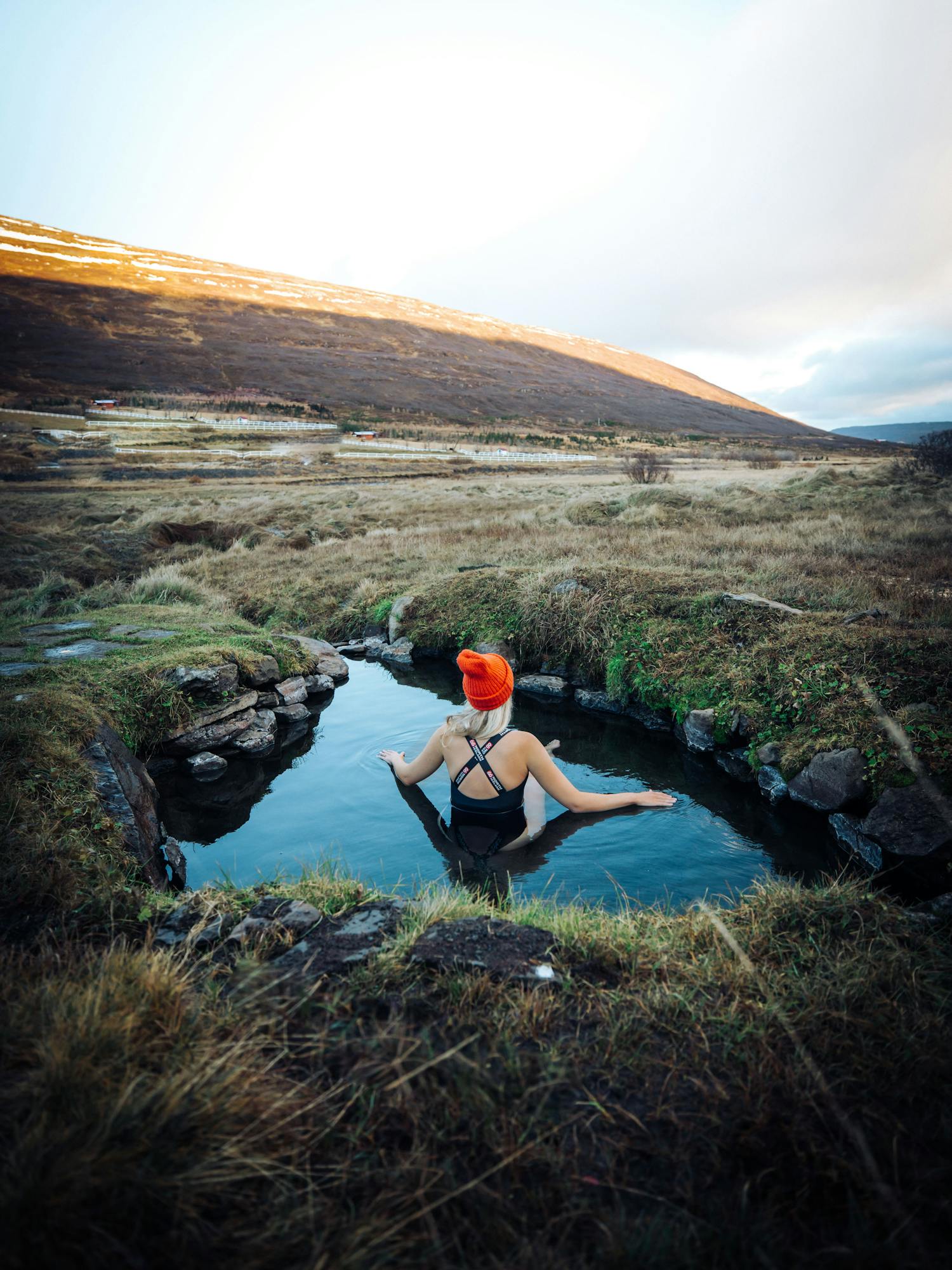 65°50,23''N 22°40,39''W

Galtahryggjarlaug is a very secret hot spring, located in the Westfjords. You need to ask permission from the land owners and then cross a small river to get there. But if you go through all of that trouble, you can be quite sure that you'll have a magical hot spring moment in this secret place.