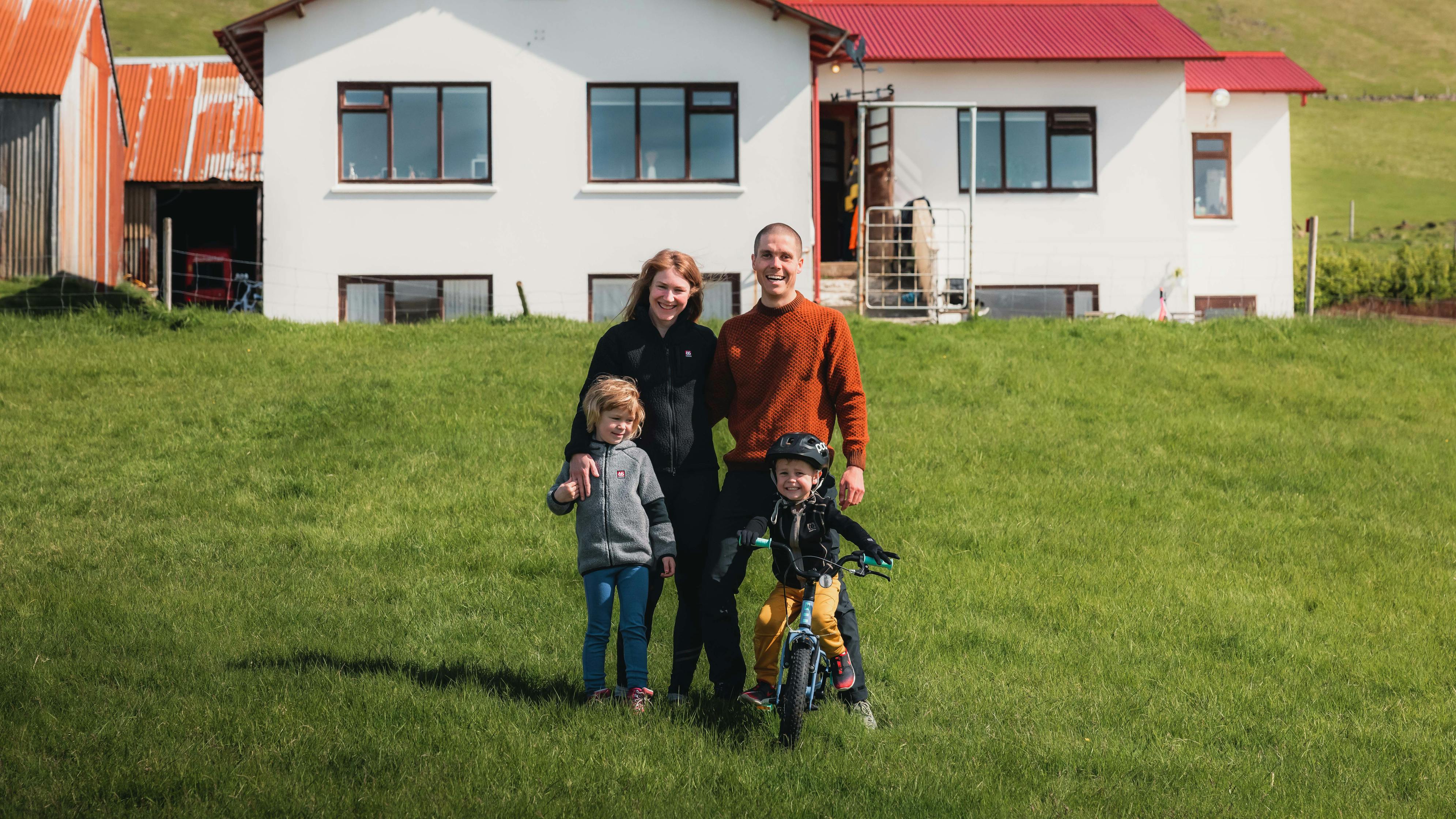 Text & video
Þorsteinn Roy
"The experience we are trying to create here is just this country atmosphere, coming home to the farm, enjoying nature, period. There are not many places where one can visit farms today where farmers have opened up their land for others to enjoy. We want people to join us in the pleasure of country living", Mummi says.
Mummi and Rannveig live with their two children, Steini Kaldbak and Heiða Guðbjörg, on the farm Mörtunga 2 in the county of West-Skaftafellssýsla. They run a sheep farm and tourism services offering mountain bike tours. Rannveig was born and raised on the farm, but she and Mummi took over the sheep farm from Rannveig's parents, whose family has lived on the land for five generations.
"I had lived in Reykjavík for many years and was a little tired of it. But then I got a job offer at Klaustur and decided to go for it. Then one thing led to another and we took over the sheep farm from my parents. Of course, Mummi was raised in Reykjavík, so it was a little different for him than me because I was familiar with this. There are a lot of opportunities here, and it is really good to live here", says Rannveig.
According to Mummi, it was an easy decision to move with Rannveig to the countryside. 
"The lifestyle was so fascinating, this great passion for the sheep that I felt Rannveig and her family had. The passion is so tremendous that every day, all year long, sheep are in the foreground; there is no room for anything else. That's what drew me here and fascinated me, this passionate lifestyle. Isn't everyone looking for that?", Mummi asks.
Mummi grew up mostly in the Seljahverfi district in Breiðholt, but he spent summers in the country at Klifmýri on Skarðsströnd in his younger years. 
"My origin is in Breiðholt, and most of my memories are from there. I took my first steps in cycling there, but I had been cycling less until I returned to the country. It was so good to be able to combine farming and cycling. I came east because I was fascinated by farming and the passion for it, but I still needed to maintain my passion, which is the bikes", Mummi says.

The passion is so tremendous that every day, all year long, sheep are in the foreground.




Would you like to read more stories like this?
Sign up to the 66°North Club to receive news and updates from 66°North, and get the chance to win a trip to Iceland, guided tours, and clothing in our 3x a year drawings. Sign up here
Bike tours
The idea of starting mountain bike tours came about during the rounding up of sheep one autumn.
Mummi and Rannveig had just moved out east and were chasing sheep along ancient sheep paths in their land in Mörtunga 2.
"Mummi just sees bike trails everywhere. He just wanted to ride his bike along all the sheep paths, and I thought it was impossible. But then Mummi started cycling and I went with him, and we saw that we had something special, so we started working on that, fixing the paths so that it was possible to ride bikes on them", says Rannveig. 



Gradually, the facilities have been developed at Mörtunga 2. They have renovated an old barn and set up accommodation with a mountain hut atmosphere for people who come to visit. They have set up shower facilities, a sauna and a cold tub in the barn, which guests appreciate after a bike ride.
"There is a really fun atmosphere in the barn. People are so free in the countryside. All you have to do is take one step outside and you are surrounded by everything, or nothing, however you look at it, just in nature. The bike takes you to such amazing places; like our backyard, it is full of canyons, waterfalls and mossy landscapes.
Of course, that is the biggest part of it all, to enjoy nature. It's so beautiful to be able to forget about everything on the bike; you sort of get back to childhood. You can't be thinking about anything else while riding, and so it becomes meditation at the same time as exercise. Many of the trails are challenging and take people out of their comfort zone. It's incredibly fun because then you get to know them much better, and people feel like they have conquered the world, or conquered themselves. It is this endorphin feeling when people come home to the farm after a trip and are enjoying themselves that is so amazing. There is an atmosphere that is created automatically on the yard. Everyone leaves here smiling", Mummi says. 
We are just looking after this land for future generations.

The Mörtunga land covers about 11 thousand hectares. Even though Mummi and Rannveig own this large land, they do not look at it that way. 
"We are just looking after this land for future generations; that is our duty. Everyone is welcome to visit. We cannot claim to own something that has been here much longer than we have", Rannveig says. 
"We have received offers to harness the energy from our river and install windmills on the heath. Then you feel that you own this land, because you can say no to this. That's the beauty of it, you feel like you own the land, but in that good way, I think", Mummi says. 
"We try to disturb as little as possible, so the bike trails are sustainable and natural. The sheep paths are sustainable; they maintain themselves well because the sheep can't be bothered to walk in mud and swamps. It is great to ride on these trails because the sheep have been compressing them for a thousand years", Rannveig says.




The mountain bikes and the sheep farming obviously go well together. They use old sheep paths that the sheep have trodden on for centuries to ride their bikes. Today, the sheep farm counts about 200 sheep. 
"I think sheep farming is an essential part of the life, the tradition and the atmosphere around the sheep. Rounding up sheep, lambing season and herding into corrals, it's so fun. For me, I think sheep are fun animals and I like everything around them. This is work that brings me great joy. Being a sheep farmer is challenging and rewarding, challenging in such a way that it requires continued attendance, but on the other hand, it is also gives you freedom to be your own master", Rannveig says. 



In addition to keeping sheep, they have three horses, a few chickens, a dog and a cat. 
"I think all kids benefit from growing up with animals. It's just wonderful to raise children in the countryside, and I highly recommend it. They learn about the animals and how to interact with them and just get to be free. It's a great freedom for Mummi and me as well. You can jump up a mountain in the backyard whenever you like; you have constant access to outdoor activities. This is the best part of living in the country, all the freedom we have and the endless ideas that are born. It's just a matter of getting them all done", Rannveig says. 
Mummi agrees. "Raising children in the countryside is what we were fascinated by when we moved here. They can pop out to play on their own, I find that very fascinating. I spent time in the country myself when I was younger, and I wanted my children to experience this feeling of freedom. That's a big part of why we are here. The best thing about living in the country for me is being my own master first and foremost and this huge freedom that comes with it".


"Raising children in the countryside is what we were fascinated by when we moved here.
What to wear
Mummi and Rannveig picks